Scotland's finance industry has 'big role' in recovery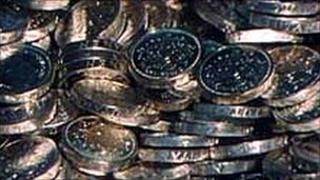 An international Scottish economist has said that despite the banking crisis, Scotland's financial sector has a key role to play in the recovery, writes BBC Scotland's Peter MacRae.
Barry Potter worked for three UK prime ministers, including Margaret Thatcher, and has spent the past 20 years at the IMF in Washington, where has just retired as a director.
His comments on Scotland's financial sector came in a documentary he has made for BBC Radio Scotland.
Over the past 40 years a large part of Scotland's traditional manufacturing sector has been lost.
It was a victim of strong exchange rates, cheap foreign alternatives and a lack of competitiveness. New electronic, foreign investment came but did not stay.
Mr Potter said that as these jobs disappeared, they were replaced in many parts of the country by the public sector.
It became Scotland's employer of last resort, insulating us to a certain extent from harsh economic reality.
But that cannot continue because of the global financial crisis.
No vacancies
We're having to pay for bailing out the banks through public spending cuts.
Scotland's public sector has no more vacancies.
For Mr Potter, growing the private sector is now crucial to generate the new wealth and taxes to pay for our public services.
What's the best way to grow our economy?
Mr Potter's recent former boss at the IMF, Jon Lipsky, said Scotland's comparative advantage is in producing quality services for the rest of the world in areas like finance and education.
While Mr Potter acknowledges the economic growth potential of renewable energy and life sciences, he is convinced our finance industry has a big role to play in turning Scotland around.
It's already a long-established service sector with a good worldwide reputation.
And over the past ten years it has created more jobs than we lost in manufacturing.
He is positive about the future for Scotland's finance industry because it still has considerable strength in areas like asset management, insurance and pensions.
In the documentary, Mr Potter's main argument is that the priority for all future Scottish governments must be to build a vibrant, diverse and internationally competitive private sector.
Only that will provide the taxes to pay for the public services we value, and give our talented skilled young people a good reason to stay.
Barry Potter's documentary, "Banking on Scotland to Grow", is part of BBC Radio Scotland's Economy Debate and will be broadcast on Sunday 26 March at 0900.