Heart attack test 'detects more'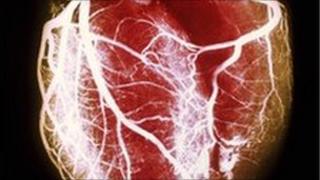 A more sensitive blood test could improve the diagnosis of heart attacks in patients who have minor damage.
Scientists from Edinburgh University said it could measure damage to heart muscles at a level four times deeper than the standard blood test.
They said this increased the number of patients diagnosed with a heart attack by a third.
Researchers said diagnosis halved the risk of patients dying of a heart attack within a year.
Data from more than 2,000 patients admitted to Edinburgh Royal Infirmary with chest pains and suspected heart attacks was analysed.
The blood test measures a protein - troponin - which is released when heart cells are damaged during a heart attack.
Researchers said the more sensitive test detected troponin at levels four times lower than the previous standard test.
They said it could help identify heart attacks which would otherwise have gone undiagnosed and patients were more likely to see a specialist.
Those with comparatively minor heart damage could also benefit.
A spokesman for the British Heart Foundation Centre for Cardiovascular Science at the university said the research provided compelling evidence that the more sensitive test substantially improved the outcome for heart patients.
Prof Peter Weissberg, medical director at the British Heart Foundation, said: "This promising study shows us that by using a more sensitive test for heart muscle damage, more patients who come to hospital with chest pains are identified as having suffered a small heart attack.
"Over recent years it has become clear that people who suffer heart pain but only a small amount of heart damage are at a very high risk of going on to have a larger, potentially fatal, heart attack if left untreated.
"This test will help doctors identify this vulnerable group of patients."
The study was published in the Journal of the American Medical Association (Jama).