Sea eagles given more protection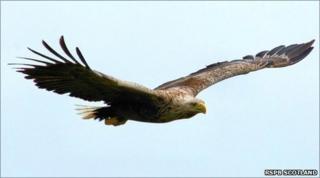 Sea eagles are to be given further protection in a new three-year scheme.
The £80,000 project involves Scottish Natural Heritage (SNH) working with farmers and crofters to help the birds throughout the areas where they breed.
Scotland's sea eagle population has reached a record high since the birds were re-introduced on the Isle of Rum 36 years ago.
But they are still considered to be rare with just 52 adult breeding pairs across the country.
Sea eagles lay up to three eggs in March with chicks leaving the nest in late July or August.
SNH will help to protect the birds, which usually nest in trees.
Farming interests
Stuart Housden, director of RSPB Scotland, said: "We are really pleased to have been involved in the development of workable measures that help support the conservation and management of these magnificent birds."
The scheme will focus on agreements with farmers and crofters as well as promoting the birds potential for tourism.
Jonnie Hall, head of rural policy for NFU Scotland, said: "The aims and measures of the new scheme clearly reflect the inter-dependence of conservation and farming interests."
An advisory panel will be set up to guide SNH on the key priorities.
It hopes the scheme will be running by late spring or early summer.