Students march to Holyrood in education protest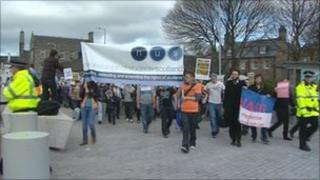 Hundreds of students have marched to the Scottish Parliament in Edinburgh to urge politicians to make education an election priority.
The protesters want tuition fees to be ruled out and are calling for improved financial support for students.
Around 4,000 people took part in the demonstration, according to organiser NUS Scotland.
President Liam Burns said students did not want to see the ladder "pulled up behind us".
He said: "Young people are here today because they want to make sure their ambitions are not overshadowed by a price tag or crippling financial hardship looming over their head before they even open a prospectus."
The march took place on the last day of business at Holyrood before the elections on 5 May.
'Decent society'
A rally was held outside Holyrood, with politicians and trade union representatives addressing the protesters.
Education Secretary Mike Russell told the crowd he "absolutely" recognised the link between student support and education.
"If a society does not invest in its young people then it has no right to call itself a decent society," he added.
Labour's Des McNulty pledged there would be no tuition fees in Scotland under his party.
He said: "It's not just about fees, it's about how we support students and how we improve what they get in the university and college system."
Margaret Smith, of the Liberal Democrats, who received jeers from the crowd as she took to the platform, promised to work with the NUS to ensure proper student support was in place.
She said: "The fact of the matter is that we will make sure there are no graduate contributions in Scotland."
NUS Scotland also outlined plans on Tuesday that it says could save universities £118m a year.
The policy suggestions include moves to fast-track 5,000 college students through a university degree.
Funding gap
Under their proposal, students who have studied at HNC and HND level at college could enter university in their second or third year of study, rather than starting in the first year.
The move would also allow some school sixth-year pupils to enter university in the second year, it is suggested.
NUS Scotland claims such measures would help plug the future funding gap between Scottish and English universities, based on increased tuition fees of about £7,500 a year south of the border.
Lecturers from the University and College Union (UCU) joined students for the protest march.
UCU Scottish official Mary Senior said: "We support the call for increased student support as the current arrangements are unfair.
"It is our members who have to deal with the effects of students dropping out or missing lectures because of their paid work commitments.
"We must do more to ensure that a university education is open to all in our society and not just those who can afford it or are prepared to risk considerable debt."