Cairn Energy profits boosted by Indian oil field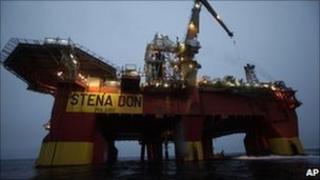 Edinburgh oil firm Cairn Energy has announced profits are up 20-fold since oil started flowing from its field in Rajasthan.
The company made US$1.1bn (£674m) in pre-tax profits last year, before extensive exceptionals, compared with US$53m (£32m) in 2009.
Production from the Mangala field began in August 2009, and has risen to 125,000 barrels per day.
The company is awaiting permission to increase that to up to 240,000 barrels.
A more significant obstacle for the oil company is the need for Indian government approval of a sale of its majority stake in its Cairn India subsidiary.
Chief executive Sir Bill Gammell told BBC Scotland that the company is funded to continue its drilling programme off the coast of Greenland, even if it does not release capital on schedule from the sale of its controlling stake to India-based Vedanta Resources for at least US$6bn (£3.8bn).
He said Cairn Energy has been operating in India for 15 years, and that experience should be a help in unravelling the dispute with the state-owned oil company ONGC.
'Strong relationships'
Sir Bill said: "It's been difficult. I've always taken the view you're a guest in other people's country.
"It's been frustrating for us, there are rules, it's up to the Indian government how to play it.
"We've built strong relationships and partnerships, and in the end of the day, we tend to get the right resolution".
He added that "sanctity of contract" is important in India.
Cairn's main argument has been a government approval to break the previous deal with ONGC would undermine foreign investors confidence in India as having a reliable legal system.
On the 15 April deadline for the deal between Cairn and Vedanta, the chief executive said it was important to get "clarity" before that date.
Cairn's exploration programme off Greenland is scheduled to continue this year, with drill vessels hired for the drilling of four wells as well as seismic surveys.
It began last year, with results described as "encouraging".