Green heat energy: Scotland needs 'ambitious' targets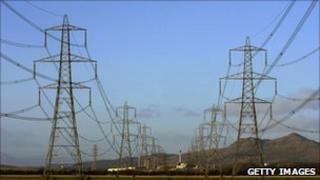 The Scottish renewable energy industry is calling for more ambitious targets on the use of green heat sources.
Trade body Scottish Renewables wants parties in Holyrood to increase the overall target for renewable energy use from 20% to 30% by 2020.
This includes proposals for 16% of Scotland's heat energy to be generated through renewable alternatives, such as biomass.
There are currently about 220 wood-burning biomass plants across Scotland.
At the Scottish Renewables annual conference in Glasgow, UK Environment Secretary Chris Huhne encouraged Scotland to take action to secure £860m of government support available for renewable heat.
The push for a higher target came from analysis by Scottish Renewables chief executive Niall Stuart.
He said: "This may look ambitious, but we have seen a clear increase in activity with the introduction of the renewable heat incentive and the zero waste plan, as well as an upturn in green heat projects being planned and installed across Scotland."
Renewable heat energy currently accounts for approximately 3% of energy use in Scotland, according to Scottish Renewables.
'Kick-start' growth
The majority of this heat energy comes from biomass sources.
The Holyrood government said 80 biomass installations are under construction and expected to be ready for use during 2011.
Mr Stuart said if the new targets from Scottish Renewables were adopted, they could "kick-start the growth" in the renewable heat sector.
Biomass energy can be generated in large plants or in smaller boilers and stoves.
To be considered a renewable heat source, the fuel must be replaceable or able to regrow.
Many biomass boilers or stoves in domestic properties use fuel derived from plants or trees which is then burned to produce a heat or energy supply.
This form of energy is often described as carbon neutral because the carbon emitted by burning fuels can be equal to the amount of carbon absorbed by the tree or plant as it grows.
The government has also confirmed that Scottish ministers were considering four more biomass plant applications.