Glasgow given 'all-clear' over tap water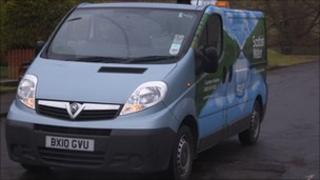 Householders to the north of Glasgow who had problems with their water supplies on Friday have now been told it is safe to drink.
About 12,000 householders were told not to drink tap water after high aluminium levels were detected.
Scottish Water said aluminium compounds were not removed because of an "operational issue".
Parts of Bearsden, Milngavie, Faifley and the Strathblane area had been affected.
The company's vans toured affected areas, broadcasting warnings about the supply and distributing bottles of water.
Residents were told water should not be used for drinking, food preparation, brushing teeth, making babies' feeds or for pets.
A Scottish Water spokesman said the advice had been issued in conjunction with the consultant in public health medicine for NHS Greater Glasgow and Clyde.
Geoff Aitkenhead, Scottish Water's asset management director, said: "Levels of aluminium in the water supply were raised only for a very short period of time and we acted quickly to take corrective action.
"As soon as the issue came to light we put in place a recovery programme to minimise the impact and reduce levels of aluminium in the water supply.
He added: "We would like to apologise to people in the affected areas."
Some supermarkets in these areas had started to run low on bottled water, and some had limited sales to a few bottles per customer.
High aluminium levels were detected in water analysed at the Burncrooks water treatment works in the Kilpatrick Hills, West Dunbartonshire.
The works, which supply about 50,000 people in East and West Dunbartonshire and Stirling, were upgraded in 2009 in a £2.6m project to improve the "security of supply".
Dr Eleanor Anderson, a consultant in public health medicine for NHS Greater Glasgow and Clyde, said: "It is unlikely that anyone who has drunk or cooked with the water will experience any immediate or long-term health effects.
"Water drunk before midnight on Thursday will not have been affected.
"If, however, anyone from the affected areas develops gastro-intestinal symptoms within the next 24 hours, such as diarrhoea and vomiting and are concerned, they should contact their GP or NHS 24."