Scottish fish landings value fell in 2010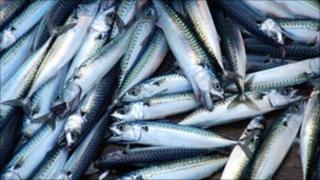 The total value of fish landed by Scottish-based boats fell last year compared with 2009, provisional statistics suggest.
Figures from Scotland's chief statistician show 366,000 tonnes were landed, worth £428m - while 377,000 tonnes worth £443m were landed in 2009.
One of the main reasons for the fall was a drop in the price of mackerel.
In 2009, 152,000 tonnes of mackerel were landed worth £135m, compared with 135,000 tonnes worth £124m in 2010.
The Scottish government said prices were improving.
According to the statistics, there was a 6% increase in shellfish, to £153m, and a 2% rise in the value of whitefish, also to £152m.
They also show 2,153 vessels were active in 2010 - 21 fewer than in the previous year.
Numbers of fishermen working fell by 4% to 5,218.
Fisheries Secretary Richard Lochhead said the figures showed the industry had produced high yields in difficult times.
He added: "We must also remember that profitability remains fragile due to fuel prices and other running costs.
"The statistics do reflect the fluctuations of the fishing industry however, with the price of mackerel dropping from its 2009 high of £151m to £124m in 2010, although high prices appear to be returning in 2011."
European Union funding is also being made available to local authorities through the Scottish government to help set up fisheries local action groups.
The groups aim to promote tourism, local food and drink, renewable energy and environmental protection.
Funding of £1.5m has been allocated for Shetland, Orkney, Highland, Western Isles and Argyll and Bute.
A further £3m has been made available for Aberdeenshire, Angus, Fife, Scottish Borders, Ayrshire, Dumfries and Galloway and Moray.