Reliance set to lose Scottish prisoner contract to G4S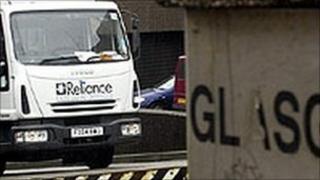 Security firm Reliance is set to lose the contract for Scottish court custody and prisoner transfers to G4S Care and Justice Services UK.
The current Scottish Prison Service contract with Reliance is due to come to an end in January 2012.
Under European regulations, there will be a period of 10 days to allow other bidders and objectors to comment.
G4S said the seven-year contract was likely to involve the transportation of about 180,000 prisoners each year.
It covers the escorting of prisoners in Scotland between jails, police stations and the courts, as well as all external visits, such as hospital trips.
G4S managing director of court services Russell Hobbs said: "G4S has unrivalled expertise in the care and transport of prisoners, and we were the first private company to take over court services from the public sector in England and Wales in 1993."
Reliance, which had the prison transfer contract since 2003, declined to comment at this stage while the 10-day cooling off period is in place.
Scottish Labour's justice spokesman Richard Baker accused Justice Secretary Kenny MacAskill of "gross hypocrisy".
He said: "In opposition his party said that a private firm should never have been brought in to deal with prisoner transfer matters and now in the fag-end of this administration, a new contract is signed, presumably with his full backing.
"Surely it would have been preferable to wait until the new administration was in place of whatever political colour to award this contract.
"This has been the hallmark of this administration. Say one thing in opposition. Do something completely different in government."
Responding to Mr Baker's comments, a Scottish government spokeswoman said: "This is an operational matter for the Scottish Prison Service."