Call for Holyrood power to issue bonds rejected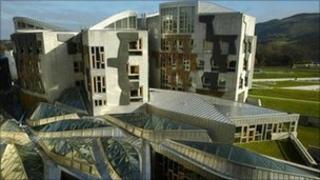 The Treasury has rejected calls for the Scottish government to be able to issue bonds to pay for large infrastructure projects.
The proposal was aimed at financing schemes such as the new Forth bridge.
The UK government insisted it was giving full consideration to a range of recommendations made by Holyrood, during a debate on the Scotland Bill.
These include plans to give the Scottish Parliament greater tax raising powers.
The Commons has been debating the bill, which would allow MSPs to set a separate rate of income tax in Scotland.
Scotland currently receives a block grant from Westminster, which is then spent by the Scottish government.
Borrowing call
During the debate, SNP Treasury spokesman Stewart Hosie said a greater flexibility for Holyrood to borrow should include issuing its own bonds.
Mr Hosie said: "Unlike the UK government the Scottish government has no opportunity to use borrowing to compensate for a forecast decline in income tax revenues in the event of, for example, an anticipated slowdown in the global economy.
"We would have no option in Scotland but to cut spending to match the reduction in revenues at a time when stimulus might be necessary."
Treasury Exchequer Secretary David Gauke said that Scottish borrowing through bonds would be classified as UK borrowing.
"As borrowing through bonds is likely to be more expensive than raising finance through UK gilts, these higher costs would be reflected in increased UK debt interest payments," he said.
"This would ultimately be a higher cost to the UK. In these uncertain times, we cannot afford the risk of extending the power to issue bonds."
The SNP called on extra powers to raise and lower taxes on petrol to be devolved, along with powers to raise and lower corporation tax and air passenger duty.
Scottish taxpayers
Mr Gauke also set out when a citizen would be a "Scottish taxpayer", liable for the separate income tax rate, defining it as "a close connection".
He said: "For the majority of people it will be a straightforward question: if they have one place of residence in the UK and that place is in Scotland, they will have a close connection with Scotland and will therefore be a Scottish taxpayer provided they live there for at least part of the year."
Mr Gauke added: "Most people will have no difficulty deciding where their main place of residence is located."
But he said some people struggling to define their main residence would "need to count the number of days they spend in Scotland compared to the number of days they spend elsewhere in the UK".
The debate comes after recommendations by the Calman Commission, which found the devolved Scottish Parliament should be strengthened.
The review was backed by Labour, the Liberal Democrats and the Tories, but was dismissed by the SNP government, which backs full independence for Scotland.
The Commons debate was adjourned until Tuesday.