SNP commits to minimum drink pricing plan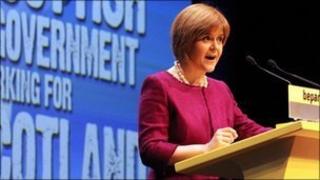 Plans for minimum drink pricing to tackle Scotland's historic alcohol abuse problems will be revived if the SNP wins May's Holyrood election.
The government's plan to set the minimum price per unit of alcohol at 45p was rejected by opposition parties last year.
But, addressing the SNP conference, party deputy leader Nicola Sturgeon said the measure was vital.
UK and Northern Ireland ministers are now considering minimum pricing.
Ms Sturgeon, also Scotland's health secretary and deputy first minister, used her speech to announce an investment of an extra £1m in family nurse partnerships in Glasgow, which aims to help give young parents and their babies the best start in life.
And, if re-elected, she pledged to launch a national drive to improve the early detection of cancer.
Police and health professionals backed the SNP minority government's minimum alcohol price plan, to help tackle an issue said to cost Scotland more than £3bn a year.
But it was opposed by Labour, the Liberal Democrats and the Tories, who said minimum pricing would penalise responsible drinkers and was probably illegal.
But addressing conference delegates in Glasgow, Ms Sturgeon said the SNP had acted like a government, while opponents acted disgracefully.
"Time and time again, it is Labour's fitness to govern that has been called into question," she said.
"And nothing - nothing - demonstrated that more than their disgraceful conduct over minimum pricing for alcohol.
"We won the backing of doctors, nurses, the police, children's charities, churches, publicans - all of those who work on the frontline and see daily the damage cheap booze is doing to our country."
'Ducked the challenge'
Ms Sturgeon went on: "But Labour - even though they knew it was the right thing to do - voted it down.
"The party of the smoking ban ducked the alcohol challenge.
"Labour put party politics before the public health of our country and they should be ashamed of themselves."
Since the defeat of minimum pricing in Scotland, the UK government has announced similar plans for England and Wales, under the proposals which would see a can of lager cost at least 38p and a litre bottle of vodka no less than £10.71.
And Stormont ministers have also backed similar plans, which could bring the cost of the cheapest bottle of wine up to £4.20, amid concerns that alcohol misuse could be costing Northern Ireland £900m a year.
Ms Sturgeon went on to outline her party's government record on issues such as freezing council tax, boosting police officer numbers, abolishing prescription charges and delivering "the lowest NHS waiting times on record".
And she accused rival parties, including the Tories and Lib Dems, of abandoning the "fairness agenda", following the formation of the UK government coalition, which has embarked on a programme of deficit-reducing spending cuts.
Turning to the May election, Ms Sturgeon said the SNP had much to be proud of.
"And now, more than ever, we need to win this election for the sake of the future generations of Scots, who have a right to grow up in a country that does not doubt its ability to be independent," she said.
"A country that has the confidence and the freedom to make decisions for itself, that it doesn't have to worry about the size of the handout from London - a country that makes its own luck and earns its own wealth.
"A Scotland that can stand tall with the best of the rest and say, "we are equal".
Delivering her election rallying cry, Ms Sturgeon told the conference: "Fellow nationalists, we need to win this election to keep our nation moving forward, to keep us on the right track, to keep Scotland on the road to independence.
"That is what is at stake.
"So let us go out there, let us campaign like we have never campaigned before and let us win this election for Scotland."