Scotland's Marine Atlas charts state of the seas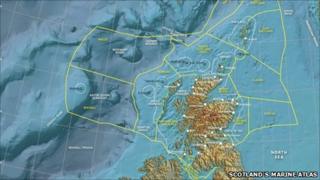 An atlas of the seas around Scotland has been compiled to chart biodiversity and help aid marine planners.
The Marine Atlas is aimed at assisting development decisions as well as providing an insight into the geography of the country's coastal environment.
The atlas data also pulls together a detailed analysis of the current state of Scotland's seas.
The marine maps have been made available online so the public can find out more.
Launching the new resource, Environment Secretary Richard Lochhead said: "Scotland's seas are a precious resource that, as a nation, we must treasure.
"That's why we have developed the Marine Atlas, a world-leading resource that draws together a vast array of information to enable an accurate picture to be built up of the complex interactions taking place, region by region, throughout Scottish waters."
Meteorologist Heather Reid OBE said: "Scotland's Marine Atlas is an excellent new educational resource for use in the classroom.
"The atlas will help young people develop a deeper understanding of the crucial role played by our seas and oceans in a wide range of environmental contexts, including climate change, renewables and biodiversity.
"I'm sure it will also inspire young people to find out more about marine science and conservation."
'Rich diversity'
Scottish Natural Heritage (SNH) worked with the Joint Nature Conservation Committee (JNCC) to contribute key information on the biodiversity of Scotland's seas.
Susan Davies, SNH director of policy and advice, said: "SNH and the JNCC welcome the publication of the atlas of Scotland's seas.
"It highlights the diversity and richness of the seas around Scotland and their importance at both the national and international levels.
"But crucially it also draws attention to the challenges that we face to keep them healthy."
RSPB Scotland said that the atlas must help protect areas important for wildlife.
Senior marine policy officer for RSPB Scotland Kara Brydson said: "The atlas must help to steer developments away from areas where they would harm sea life, from puffins and dolphins to mackerel to coral reefs.
"Using the wealth of information in the atlas, the government can now get on with preparing Scotland's first ever National Marine Plan, which we believe should encourage sustainable industries and make space for wildlife."