SNP conference: Salmond in free education pledge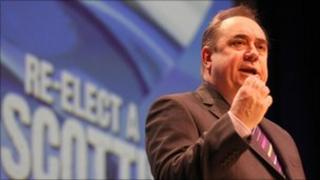 SNP leader Alex Salmond has vowed to keep university education free for Scottish students, if his party wins the Holyrood election in May.
His pledge, which was made at SNP conference in Glasgow, comes after the UK government backed a large rise in university tuition fees in England.
The first minister dismissed concerns of university principals that Scottish higher education could fall behind.
He told delegates that "any funding gap will be closed".
With finances tight, Mr Salmond also used his speech to commit to a policy of no compulsory jobs cuts in the public sector.
And he launched a strong attack on Labour, accusing the party of running scared from the SNP and seeking to portray it as a self-serving party of "vested interests".
The conference came just weeks before the Scottish Parliament elections on 5 May, where the SNP is seeking a second term in power, after forming a minority government in 2007.
In his speech, Mr Salmond said education must be based on the ability to learn, not the ability to pay.
From September 2012, universities in England will be allowed to raise tuition fees to up to £9,000 per year, raising the cap from its current level of £3,290.
The Scottish government, which is currently reviewing the issue, has previously said students from England, Wales and Northern Ireland who go to university in Scotland could face annual fees of up to £6,000.
However, higher education for Scottish students studying in Scotland has been free since the SNP moved to scrap the £2,289 graduate endowment charge in 2008.
With Scottish higher education facing a predicted £93m funding gap, Mr Salmond moved to allay concerns that the sector will struggle to keep pace with institutions in the rest of the UK and beyond.
The SNP leader told the conference: "This nation pioneered free education for all, which resulted in Scots inventing and explaining much of the modern world. We called this the Scottish Enlightenment.
"And out of educational access came social mobility as we reached all the talents of a nation to change the world for the better - we can do so again."
'Wider economy'
The first minister also said: "Some of our university principals fear that we will fall behind England - we will not.
"We do not intend to withdraw the state from higher education. Any funding gap will be closed.
"We would only fail if we were to betray our traditions and mortgage the future.
"So, when it comes to the question of university fees or graduate taxes, I know where I stand.
"The rocks will melt with the sun before I allow tuition fees to be imposed on Scottish students - upfront or backdoor."
Mr Salmond went on to list the achievements of the SNP government, including freezing council tax, boosting police officer numbers by 1,000 and scrapping prescription charges and bridge tolls.
The first minister also said he would take action against UK government spending cuts by helping to secure jobs.
"If people have the fear of compulsory redundancy removed, then they are able to plan and spend for the future of themselves and their families - that preserves jobs and helps the wider economy," he said.
"That is why, as first minister, I will spend every day securing our agreement with the Scottish government unions and then seeking to see it expanded across the public sector.
"As a candidate, I will campaign for it and, if the people return me as first minister, then I will secure that prize of no compulsory redundancies and economic security that it brings."
Turning his sights to Labour, which served in a coalition government with the Liberal Democrats for the first eight years of devolution, Mr Salmond said the party was "right to be scared".
"Scared of our record and scared of our team," he said, adding: "Scared because so many Scots of all political persuasions want to see this SNP government re-elected.
"Scared because only the SNP speaks for all of Scotland."
Accusing Labour of standing for "cheap booze and higher taxes", after its rejection of minimum drink pricing, Mr Salmond said: "Has there ever been a more miserable and depressing prospectus ever proffered to the people of this nation?"
The first minister went on to accuse his opponents of backing "jobs for the boys" over jobs for young people, telling the conference: "I don't think that Scotland wants to go back to Labour's crony state, where helping out your pals came before helping the poor - Where a party card was a passport to the cushiest numbers."
The first minister referred to the resignation of "Labour connected officials" from the Strathclyde Passenger Transport Authority "in disgrace" following an expenses scandal, adding: "Labour speaks for vested interests - the Scottish National Party speaks for all of Scotland."
Rallying members of the party faithful ahead of the coming election campaign, the first minister said: "The business of government is a steep learning curve - particularly for a minority government.
"No doubt we could have done things better, yet, even in the teeth of the world recession and the consequences of Brown's bust - we have still achieved more in four years than any other Scottish government," he said.
Mr Salmond told delegates: "I am the first minister of Scotland. We still have plenty to do. With the people's support, I intend to continue to be first minister of Scotland."