Scots divorce rate falls to 30-year low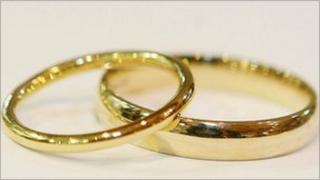 Divorces in Scotland have fallen to their lowest rate for 30 years, according to new data published by the registrar general.
The figures showed there were 9,893 divorces in 2009. The last time the figure was that low was in 1980 when 9,068 divorces were recorded.
The latest figures also showed that more people got married last year.
Weddings rose by 956 in 2010, although at 28,480, the figures remain low compared with previous decades.
Registrar General Duncan Macniven said the drop in divorces was partly due to a recent change in the law.
"This [decrease] is not unexpected - the Family Law (Scotland) Act 2006, which came into effect on 4 May 2006, reduced separation periods for divorce, so there was an increase of over 2,000 divorces in 2006, followed by decreases in 2007, 2008, 2009 and 2010.
"The average of these five years is around 11,500 which is slightly higher than the levels recorded immediately before the change in legislation."
Heart disease
The report also showed that just over half of all children in Scotland were born to unmarried parents, although the figure dropped from 50.3% in 2009 to 50.2% last year.
There were also 197 male civil partnerships and 268 female civil partnerships in 2010. Edinburgh City had the highest number, both male and female, with 59 and 48 respectively.
Other data from 2010 showed Scotland's births fell by 254 to 58,792, while deaths rose by 111 to 53,967.
The figures revealed that deaths from heart disease and strokes fell by 2.1% and 2.7% respectively.
However, the number of people losing their lives to cancer in Scotland rose by 81 or 0.5%.
Mr Macniven also said that coding of the causes of death was being updated to take account of changes to the World Health Organisation's international classification of diseases and related health problems.
The statistics for the first quarter of 2011, to be published in June, will be the first to be produced using the new coding.