The road to Scotland's first royal wedding in 20 years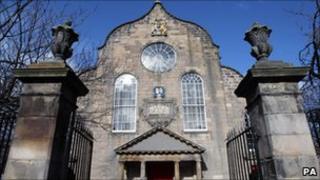 There hasn't been a royal wedding in Scotland for nearly 20 years.
The last was Princess Anne's marriage to Timothy Laurence at Crathie Kirk, near Balmoral in 1992.
The Princess Royal's daughter, Zara Phillips, is now renewing the Scottish connection.
Buckingham Palace has confirmed she will tie the knot with England rugby international Mike Tindall at the Canongate Kirk in Edinburgh on 30 July.
The church only became available on that date because another couple agreed to move their nuptials.
Edinburgh-based graphic designer Cherith Harrison was planning to marry lifeguard Gregg Walter in the Canongate Kirk until she heard about the clash.
"We received a phone call from the minister who'd asked would it be possible for us to consider moving to another venue as Zara and Mike were keen to get married there", Miss Harrison told the BBC.
"There was no money, cash incentive or anything like that. Out of goodwill, we were just happy to move for them", she said.
Palace sources have indicated this request was not made at their prompting.
'Loyal husband'
The 17th Century Canongate Kirk is small, simple and modest compared to Westminster Abbey, where Prince William and Kate Middleton will marry three months earlier.
It will cost Zara Philips and Mike Tindall as little as £300 to use the venue.
The church's website says wedding fees are currently £75 for the organist, £25 for the church officer and a minimum donation of £200 to the church.
Newlyweds are also expected to leave their flowers for the Sunday service.
The minister at the Canongate, the Reverend Neil Gardner, is chaplain to the Queen in Scotland and would be expected to conduct the marriage ceremony.
He said he was "delighted" the wedding would be held in his church.
The Reverend Gardner is known to favour the traditional Church of Scotland service which includes the vow: "In the presence of God and before these witnesses I promise to be a loving, faithful and loyal husband/wife to you, so long as we both shall live".
The church sits on Edinburgh's Royal Mile, near to the Scottish Parliament and Holyrood Palace, which will host the wedding reception.
The guest list has yet to be revealed but the Palace has stressed that this will be a private occasion.
Zara Phillips was educated in Scotland at Gordonstoun.
Her mother is patron of the Scottish Rugby Union, which is ironic given her daughter has chosen to marry the captain of Scotland's auld enemy, England.