Scots teacher training faces shake up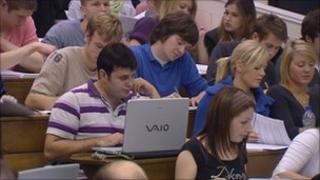 Students hoping to become school teachers will have to show higher levels of numeracy and literacy if they want to get a place at university.
The change follows the Scottish government's acceptance of the Donaldson report, which considered ways of improving teacher education.
Scotland's skills minister said details needed to be worked out but that change would take place.
The changes are due to be piloted by the government next year.
Minister for Skills and Lifelong Learning Angela Constance said steps needed to be taken to "ensure that the right people enter initial teacher education".
She also said that the government would be working with teaching organisations to improve selection procedures.
Ms Constance's comments came in response to the Teaching Scotland's Future report, compiled by former HM Inspectorate of Education boss Graham Donaldson.
It found that there needed to be wide-reaching changes in the entry route to teaching, teaching qualifications and continued teacher education.
Its 50 recommendations also included proposals for the introduction of tests in reading, writing and maths for trainees as a way of driving up standards in Scotland's schools.
'Decisive steps'
Ms Constance said: "Universities are autonomous institutions, with the right to select their own students. However, they must also accept that there is a legitimate wider public interest in who trains to become a teacher.
"As we discuss those wider ways forward on selection, there are areas where we need to take decisive steps to ensure quality.
"With regards to literacy and numeracy, we need to ensure that teachers have secured the higher level of skills they need to develop those skills in others."
The minister added: "We will take that forward vigorously and will aim to pilot approaches with the new student intake in 2012."
Ms Constance said the government also planned to set up a National Partnership Group, involving the Association of Directors of Education in Scotland, the Scottish Teacher Education Committee, the General Teaching Council for Scotland, and teachers.
The group will consider how schools, local authorities and universities can deliver teacher education throughout teachers' careers, including developing a Masters qualification.
The group will be set up immediately and report back on its proposed work programme by September 2011.
The findings have been given a cautious welcome by teacher groups.
James Noble Rogers of the Universities Council for the Education of Teachers (UCET) said: "We agree with the Donaldson review that teaching is complex and challenging and teachers need to be of the highest quality to provide the best education for our pupils."
He added: "We look forward to working with the Scottish government to make sure that these skills tests for trainee teachers are implemented without undue burden on trainees or teacher training providers."
EIS general secretary Ronnie Smith said: "It is vital that trainee and newly-qualified teachers receive appropriate supported development to allow them to apply the skills they acquire during initial teacher education into the classroom setting in schools."
However, Mr Smith said the union was disappointed over ministers' failure to commit to the chartered teacher programme, which he said could have helped experienced teachers continue in the classroom rather than being moved to management posts.