Scottish government figures show homelessness rise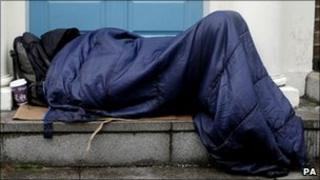 The number of homeless people in Scotland has risen slightly, official figures have suggested.
Scottish government statistics showed 29,382 homeless applications from April to September 2010, an increase of 212 on the same period in 2009.
Household disputes - some violent - and relationship breakdowns were key reasons for making applications.
Councils are working towards a commitment to end homelessness by 2012, given by the previous Scots government.
According to the government figures, 87% of applicants assessed as homeless were assessed as priority.
Two council areas, Angus and Dundee, assessed 100% of homelessness applicants as being in priority need, with a further 11 local authorities assessing more than 90%.
Housing Minister Alex Neil said: "We do not underestimate the challenge that the new economic environment brings to meeting the target; in particular the proposed changes to housing benefit and the wider changes to the welfare benefit system."
Harry McGuigan, of local authority body Cosla, said there were "serious difficulties" in work towards meeting the 2012 target, adding: "These will not get any easier with hugely-reduced budgets for new affordable homes, increasing demand for social housing due to the wider economic situation, and the impact of welfare reform."
The 2012 commitment will see all homeless households entitled to settled accommodation.