Contaminated blood victims in plea for inquiry truth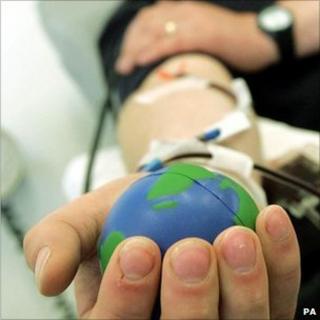 Patients in Scotland who were given contaminated blood in the 1970s and 1980s have called for truth and honesty from an official inquiry.
The Penrose Inquiry is due to hear from some of the hundreds of people who were infected with hepatitis C and HIV following blood transfusions.
Ahead of the first oral evidence session, victims and families affected said they wanted lessons to be learned.
Lord Penrose is chairing the inquiry, which began two years ago.
It was instigated by the Scottish government and was given the task of investigating how the NHS collected, treated and supplied blood during the period.
At this latest session, taking place in Edinburgh and running until the end of March, the inquiry will hear what patients were told, how they were monitored and why patients became infected.
Before proceedings began, the lawyer acting on behalf of some of the families issued a statement.
Patrick McGuire said: "HIV and hepatitis C have had a devastating effect on the lives of the victims.
"They have experienced social stigma, financial hardship and their infection has impacted heavily on the lives of their families.
"The fact that everyone whom I represent in relation to the Penrose Inquiry was infected through the acts and omissions of the NHS, makes the tragedy of their plight so much more profound."
He went on to pose a number of questions which those affected want to inquiry to answer.
One asked why was there a delay of three years before informing the 16 patients in the trials that they had been infected with HIV.
Eileen O'Hara, 72, and Reverend David Black, 66, were among those who died after contracting hepatitis C.
Bruce Norval, from Fortrose, in the Black Isle, told BBC Scotland that it was hard not to be sceptical about the inquiry.
He said: "I think that this is just going to be another piece of window dressing.
"I hope I am wrong, but as this inquiry is only looking at hepatitis C and HIV it is from the start inadequate to answer the charges being put against it by haemophiliacs."
Those scheduled to address the inquiry include victims' relatives, hepatologists and representatives from the Scottish National Blood Transfusion Service (SNBTS).
The inquiry opened in March 2009 with a minute's silence for all those who died from infected blood products.
Lord Penrose has said no individuals or institutions would be held criminally liable as a result of the probe.
He told the inquiry that "actions and failures" may be identified, but added: "Neither of those matters will involve finding individuals or institutions legally liable to penalties, or for damages or for breach of duty in a legal sense."