Country music star Dolly Parton in Scots book giveaway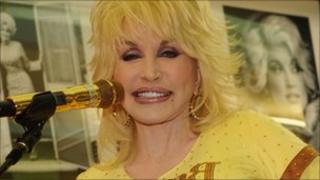 Country music star Dolly Parton has launched a project to give free books to children in Scotland.
The Imagination Library scheme will see youngsters in care given a free book every month until their fifth birthday.
The initiative, which is being run in partnership with the Scottish government and the Scottish Book Trust, will involve about 3,341 children.
The Dollywood Foundation project has already proved successful in the US and other parts of the UK.
Dolly Parton developed the project in 1995 for her hometown of Sevier County in Tennessee.
It proved so successful that neighbouring communities asked to join, before it spread across the US.
The project began in the UK in Rotherham in December 2007 and has grown to operate in a dozen areas.
However, the Scottish project is the first to run on a national basis, purely for children in care.
'Language skills'
Dolly Parton said: "I am thrilled to be a part of this wonderful effort. When I started the Imagination Library in my hometown, I never dreamed that one day we would be helping Scottish kids.
"Much of my music has been inspired by Scotland so it's only right that we are now in a position to bring more joy into the lives of the nation's looked after children.
"From the bottom of my country heart, I want to thank the Scottish government and the Scottish Book Trust for asking us to be part of something so special."
Children's Minister Adam Ingram said the scheme aimed to ensure looked after children were given some of the same life chances as others.
He added: "Research also shows that children whose parents and carers talk to them frequently have better language skills than those who do not and that the presence of books in the home can have an important impact on long-term achievement."
The books for the Imagination Library programme will be selected by a committee of experts in the field of childhood development, literacy and education, with a Scottish expert set to join the panel later this year.