SNP moves closer to Scottish budget deal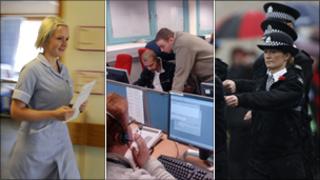 The Scottish government is moving closer to a deal on passing its budget, after Lib Dem indications that they may support the £33bn spending plans.
On the eve of the final budget vote in parliament, Finance Secretary John Swinney offered concessions to Labour, the Liberal Democrats and the Tories.
Following last-minute talks, the Lib Dems said it looked like their call on college funding had been accepted.
The minority SNP administration needs opposition backing to pass the budget.
Mr Swinney has faced claims his budget for the year ahead does not support economic recovery.
The finance secretary has argued that his Budget Bill for the year ahead - the SNP's last before May's Holyrood election - will boost growth and protect frontline jobs in the face of about £1bn of Treasury cuts.
Mr Swinney is also seeking the support of the Conservatives - who have backed the budget in previous years - by reaching agreement on support for private sector growth.
Liberal Democrat finance spokesman Jeremy Purvis, who called for increased support for college bursaries, said: "Liberal Democrats were clear that the budget needed to be stronger for young people in colleges so that they could gain skills, which will support economic recovery.
"It looks as if the government has accepted our case."
But Mr Purvis warned he was still seeking "clarification" on the concessions, which the party will consider ahead of the final debate and vote on the Budget Bill at Holyrood on Wednesday.
It is thought the finance secretary has offered Labour support for apprenticeships.
Labour finance spokesman Andy Kerr said his party would not support the budget as it currently stood.
He has demanded the Scottish government commit to creating a "Future Jobs Fund" to tackle youth unemployment - a key Labour Holyrood election pledge.
The two Green MSPs, who voted against the budget at an earlier stage, have set out "£400m of revenue and spending changes".
Among their demands are limiting further education and housing cuts and committing to a full-scale, universal home insulation scheme.
The party said their demands could be paid for by by delaying construction of the new Forth road bridge by a year, and widening the scope of non-domestic rates.
Holyrood's only independent member, Lothians MSP Margo MacDonald, is also seeking budget changes.
Mr Swinney has already had to make amendments to cover a £30m hole in the budget, after failing to win enough support for his proposed tax on large retailers.