Nicol Stephen takes up seat in the House of Lords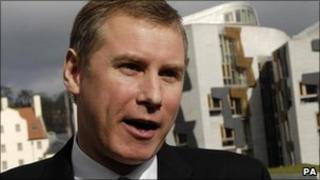 The former leader of the Liberal Democrats in Scotland, Nicol Stephen, has taken his seat in the House of Lords.
Lord Stephen, 50, was briefly an MP in the early 1990s and has been a member of the Scottish Parliament since 1999.
He was deputy first minister from 2005 to 2007 and leader of the Scottish Lib Dems from 2005 to 2008.
The Aberdeen South MSP said: "It is a great privilege to become a member of the House of Lords."
He added: "It was a very special day to be sworn into the House of Lords, particularly in front of my family and friends in the gallery.
"It is only a few weeks until I stand down from the Scottish Parliament and I am looking forward to the new opportunity of speaking up on behalf of Aberdeen and the North East in the House of Lords."
Lord Stephen was first elected as a local councillor in 1982.