SNP plan to end empty home council tax discount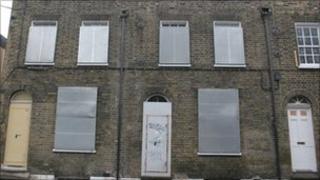 Local authorities are to be given new powers to increase council tax on empty homes, under plans announced by the Scottish government.
The move, announced three months before May's election, could raise £130m in four years to build new homes.
The owners of long-term empty homes can currently qualify for council tax discounts of 50%.
Ministers said there were 25,000 such properties across Scotland, while some people were struggling to find homes.
Announcing the proposals as part of a 10-year housing vision, Housing Minister Alex Neil said the move would free up 800 homes every year and support 1,500 jobs in construction and other sectors.
"There are about 25,000 long-term empty homes across Scotland, located in urban, rural and island communities," he said, adding: "They represent a wasted housing asset and have a negative impact on the quality of Scotland's cities, towns and villages.
"We also recognise the need for government support for the growing number of people priced out of home ownership, struggling to afford market rents but unable to access social housing."
Deputy Scottish Labour leader Johann Lamont claimed housing had been the biggest loser in SNP budgets.
She said: "The housing minister's solution is to put up council tax on empty homes - but they are also cutting the grant to housing associations for new homes, which will push up rents and prevent new projects from going ahead."
Conservative finance spokesman Derek Brownlee, said: "The SNP seems to be trying to copy Labour - pretending the answer to every problem is higher taxes."
Graeme Brown, director of homeless charity Shelter Scotland said that, ahead of the Holyrood election, all parties must say exactly how much they will invest in affordable housing, how many new homes will be built, and their policies on preventing homelessness.