'Marked reduction' in flu-related deaths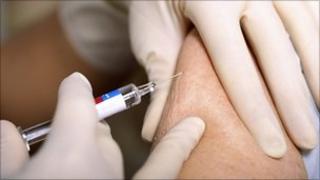 Four people with flu have died in the past week, taking the total number of deaths in Scotland since the start of the flu season, to 54, figures suggest.
Health Protection Scotland (HPS) said all four had the H1N1 swine flu strain.
None of those who died were in the under-15 age bracket.
Experts said the figures were in line with expectations and Health Secretary Nicola Sturgeon said there had been a "marked reduction" in flu deaths.
The statistics also suggested that the latest rate of GP consultations for flu-like illness in Scotland was 45.7 per 100,000, down from the previous week's figure of 47.9.
The figures also indicated that over the past week three people with flu needed treatment in intensive care, a decrease from nine the previous week.
Since the beginning of the flu season, there have been 157 intensive care cases.
The Scottish government said three quarters of people aged over 65 had now been vaccinated, while more than 54% of those eligible under 65 had received the flu vaccine.
The number of pregnant women getting the vaccine also increased to almost 59%.
Ms Sturgeon said: "I am pleased to see that the figures continue to show that the number of people contracting seasonal flu in Scotland is decreasing.
"We are also seeing a marked reduction in deaths related to flu - this is partly due to the use of vaccination and in part due to the declining levels of the virus among the general population.
She added: "However, it's not too late for anyone in the priority groups to come forward and receive the vaccination if they have not yet done so.
"It has, undoubtedly, saved lives over the past few months.
"Although we can never be certain, we are hopeful that flu activity levels will continue to decrease.
"We will continue to monitor the progress of this flu season closely."