SNP plans NHS elderly care reform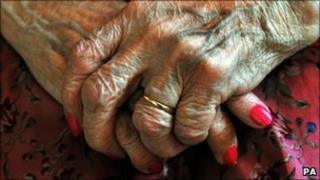 Plans to transfer care for the elderly from councils to the NHS have been announced by the Scottish government.
The proposals would move 38,500 staff to health boards, providing a single point of access for patients.
Council body Cosla said the SNP administration's plans were "incompetent" and a "cheap shot" to kick-start May's election campaign.
But Health Minister Shona Robison said older people could get better treatment with more integrated services.
Under the government's plans, the health service would take charge of organising home care for patients who need support after leaving hospital.
It is also hoped the proposals, to be taken forward by a "lead commissioning" group with £2m of backing, would save money and cut bed-blocking.
Ms Robison, who refused to get involved in a "bunfight" with Cosla, said: "We want to see health and social care for adults delivered in an integrated way by NHS and council social work staff working together to give a seamless service.
"Evidence from partnerships in England shows more older people can get quicker care packages, cuts in delayed discharges, reduced length of stay in acute hospitals and fewer unplanned emergency admissions to hospital."
However, Cosla president Pat Watters launched a strong attack on the plans, saying councils had been debating the issue with the minister for four years and, "at no time has she raised this idea as the best way forward".
"If this is a serious attempt by the Minister to create stability and certainty in a service area under real pressure as a result of reduced resources and increased demand, it is incompetent," said Mr Watters.
He went on: "Local government is not opposed to change - however radical - and it is not opposed to a fundamental look at the policies, practices, systems and structures that underpin care of the elderly in Scotland.
"What we will not tolerate is that these services and outcomes for older people are put at risk as the minister goes for a 'cheap shot' kick start to her election campaign."
Labour plans to merge health and social care into a National Care Service, should it win the election in May.
The party's health spokeswoman, Jackie Baillie, said the government plans were "too timid", adding: "After nearly four years in power, the Scottish government's only contribution has been to cut social work budgets by £400m.
"It seems incredible that they are now proposing to rush through a major change on the eve of an election."
'Community partnerships'
The Tories' Murdo Fraser said the government plans were a step in the right direction, saying: "In these difficult economic times, we need to do all we can to protect jobs and services.
"A joined-up approach would reduce delayed discharges and ensure a better service for older people with a faster response to their needs."
Ross Finnie, the Lib Dem health spokesman, said care for the elderly was the "single biggest challenge" facing the next Scottish government.
"Liberal Democrats want to see local solutions to delivering health care in the community, he said, adding: "We will do this by breaking down barriers between hospitals and community care partnerships."
Lord Sutherland, who reviewed Scotland's landmark free care for the elderly scheme, backed the Scottish government plan.
He said: "The time for talking is over. It is now time just to get on with it."