Glasgow's George Square traffic to be cut back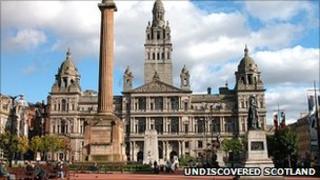 Plans to reduce traffic in one of Scotland's most famous public squares have been given the go-ahead.
Glasgow City Council has approved new traffic management measures to reduce congestion around George Square.
Under the pilot scheme, only buses, taxis, private hire cars and cyclists will be allowed into the square from West George Street.
The aim is to have up to 1,000 fewer cars travelling into the city centre on a daily basis.
Other measures will see a second bus gate at North Hanover Street, south of the entrance to Queen Street Station.
This will reduce traffic on the north side of the square east of North Hanover Street.
'Relieving congestion'
The northbound contraflow bus lane, north of the Queen Street Station access, will no longer be in operation and North Hanover Street will be two-way for all traffic from Cathedral Street to the station entrance.
Metered parking will also be removed from around George Square and there will be no access to vehicles on the east side of the square directly outside the City Chambers.
Councillor Jim Coleman, executive member for land and environmental services, said the measures would see a 70% reduction in the number of cars travelling along the north side of the square during peak times.
"These proposals are a huge step towards relieving the congestion affecting the city centre on a day-to-day basis," he said.
"Introducing these measures will unblock the crowded city centre streets, improve air quality and bus journey times by 10%.
"Removing all metered parking will free up the area from the thousands of vehicles that currently come into George Square looking for a place to park as well as improving road safety due to the large volume of vehicles conflicting with high pedestrian activity."
The measures are being introduced on an experimental basis which means they can be withdrawn at anytime.
The council is obliged by law to hold a further public consultation before making them permanent.
Jonathan Findlay, chair of Strathclyde Partnership for Transport (SPT), said: "SPT has been pushing for this for some time.
"It makes absolute sense that better traffic flow and less congestion will get people on to public transport.
"We will continue to work closely with Glasgow City Council to make sure this pilot is a success."