Lockerbie: Wikileaks 'vindicates' us, says MacAskill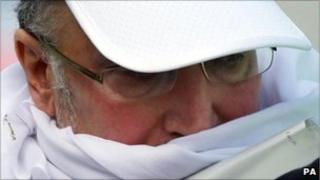 Justice Secretary Kenny MacAskill said a US diplomatic cable "vindicated" the position of the Scottish government to be open and upfront on the release of the Lockerbie bomber.
The cable, obtained by Wikileaks, suggests a UK government minister gave the Libyans advice on how to secure Abdelbaset al-Megrahi's freedom.
Megrahi was freed from a Scottish prison on compassionate grounds.
He was returned to Libya in August 2009 suffering from prostate cancer.
Megrahi, the only man convicted of the 1988 atrocity in which 270 people died, is still alive despite only being expected to live for three months by doctors.
A secret US diplomatic cable, obtained by the Wikileaks website and shown to the Daily Telegraph, cites details of a letter sent by then Foreign Office minister Bill Rammell to his Tripoli counterpart.
Sent within weeks of Megrahi being diagnosed with cancer in 2008, it outlines "the procedure for obtaining compassionate release", the newspaper said.
Medical advice
Then prime minister Gordon Brown strenuously denied any attempt by the UK government to influence the decision of Mr MacAskill.
The memo was written by a US official after a meeting between its ambassador in London and senior Foreign Office official Rob Dixon.
The Foreign Office said it did not comment on the detail of leaked documents.
The Scottish justice secretary has said he came to the decision to release Megrahi based solely on medical advice, while UK ministers have always insisted they played no part in the process.
Mr MacAskill told BBC Radio Scotland: "We think that it is appropriate the public should be aware of the basis upon which I made my decision.
"That is why, apart from where we are precluded by law, or precluded because individuals haven't given their consent, or indeed governments such the UK, Libyan or American governments haven't given their consent, we've published everything."
A spokesman for Scotland's First Minister Alex Salmond said: "The cables confirm what we always said - that our only interest was taking a justice decision based on Scots Law without fear or favour, which was exactly what was done, and that our public position was identical to our private one.
"The cables also show that the former UK government were playing false on the issue, with a different public position from their private one - which must be deeply embarrassing for the Labour Party in Scotland - and that the US government was fully aware of the pressure being applied to the UK government."
Foreign Secretary William Hague said in the House of Commons that a review of official documents surrounding the release of Megrahi would be published "shortly".