EIS teaching union calls for national exams delay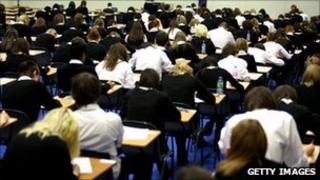 Scotland's largest teaching union has expressed concern schools may not be ready to present pupils for new national exams planned for 2013.
The Educational Institute of Scotland (EIS) urged ministers to delay the radical change for a year to give the new Curriculum For Excellence more time to bed in.
The Scottish government admitted there was more work to be done.
But it said overall there had been tremendous progress.
The Curriculum for Excellence aims to give teachers more freedom and make lessons less prescriptive for children between the ages of three and 18.
At the start of this academic year, it was introduced for children in their first year of secondary school, and will be rolled out year-on-year until it is implemented for all secondary years.
But teachers' leaders said they still had serious concerns about the ability of schools to bring in the curriculum and prepare pupils for the new national exams which will follow in its wake.
'Extremely unfair'
The EIS said schools' ability to handle change had been affected by cuts in staffing and in-service training.
The union's education convener, Larry Flanagan, said: "We think a year's delay would have given schools more time to bed in the new curriculum and prepare more adequately for the new qualifications.
"The time frame at the moment is really pressurised and the danger is that a number of pupils are ill-prepared for the new exams and are therefore disadvantaged - and that would be extremely unfair."
In a letter to schools, the Scottish government said more work needed to be done to ensure staff and parents understood the new curriculum and had confidence in it.
But it said overall there had been tremendous progress and it would be sticking to the implementation plan, following advice from school inspectors and education authorities.