Andy Murray's time 'yet to come', says Tennis Scotland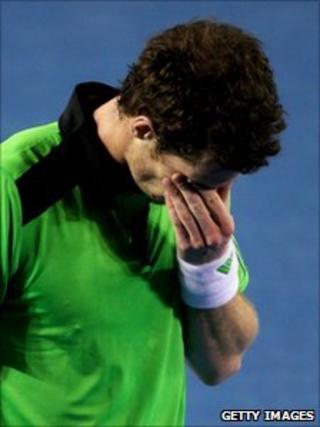 Andy Murray's time is "still to come" despite his defeat in the Australian Open final, Tennis Scotland has said.
A spokesman for the tennis governing body for Scotland said everyone was "extremely disappointed" at Murray's failure to win a Grand Slam title but felt sure he would fight back.
The 23-year-old Scot was beaten in the final by Serbian Novak Djokovic who won by three sets to love.
Murray lost previous finals at the 2008 US Open and the 2010 Australian Open.
The last British man to win a Grand Slam title was Fred Perry in 1936.
Dave Macdermid, spokesman for Tennis Scotland, told BBC Scotland's news website: "It is extremely disappointing and we are all gutted for Andy but Djokovic played absolutely wonderful tennis and deserves that credit.
"However, as one of only a handful of genuinely world-class sportspeople that Scotland has, we are absolutely convinced that Andy's time will come, sooner rather than later."
He added: "Andy can play a lot better. We know he's got it in his locker. It's just unfortunate that today was not meant to be."
After the match Murray said: "I'd like to thank my team over there, we put a lot of hard work in together. Didn't quite do it this time but hopefully I'll come back and I'll have more chances in the future."
First Minister Alex Salmond said: "Andy Murray has taken Scottish tennis to a place it has never been, and is a fantastic ambassador for his sport.
"He had a good tournament in Melbourne, and in the midst of his disappointment showed a determined mood for the future, and a great sporting spirit towards Novak Djokovic. "
He added: "Andy played wonderfully well in getting to the final, and there is no doubt that he has the talent and the time to go one step further and win a Grand Slam."
Murray's home town of Dunblane had been festooned with messages of support.
Posters willing him on adorned shop windows while fans gathered in pubs and the National Tennis Centre at the University of Stirling to watch the match.
Fans in Dunblane expressed disappointment and pride in the Scot's performance.
One supporter, who watched the match in a local pub, said: "Djokovic was the better player on the day. I'm disappointed but I'm sure Andy will win a Grand Slam in the near future."
'Still proud'
Another fan commented: "Andy may have lost but we are still very proud of him."
There was also disappointment for Murray's grandparents, Roy and Shirley Erskine, who had faced a nervous wait before the final.
Mr Erskine said: "The first time Andy got to a final we had no idea what to expect, but now we realise just how massive it is."
Murray had also received good luck messages from Prime Minister David Cameron and Alex Salmond before the match.
In a message to Murray, Mr Cameron had wished him the "very best of luck" in his meeting with Djokovic.
He said: "You have played incredibly well to reach the final for the second year running, and everyone back at home is very proud of you."
Mr Cameron - a keen tennis player himself - also joked that Murray had been helped by their practice session when he visited Downing Street last November.
Murray secured his spot in the final after beating Spaniard David Ferrer in what he called an "unbelievably tough" test.
Millions were expected to watch the match on TV after 6.3 million people tuned in to last year's Australian Open to watch Murray lose to Roger Federer.
Tom McLean, who runs the Dunblane Hotel, was granted a special licence to open at 0800 GMT.
Tennis Scotland also hosted an event for the public to support Murray.
Large screens showed the game at the National Tennis Centre.