Scottish offenders to face manual labour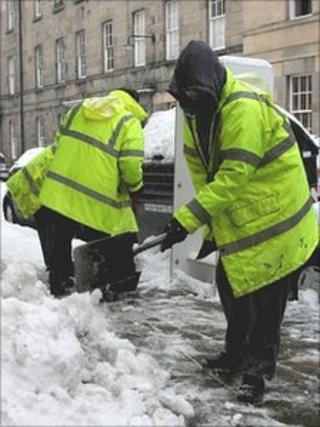 Low-level offenders will be sent out to perform manual labour within hours of being sentenced under a new Scottish government-funded pilot scheme.
The fast-track plan will see offenders taken from the dock to be assessed and allocated to a community payback squad.
The pilot, which will be run at Glasgow Sheriff Court, will bring together community service and social work staff working in the vicinity.
The move was announced by Justice Secretary Kenny MacAskill.
Mr MacAskill said: "We want to see low-level offenders out paying back communities by doing some tough manual labour.
"Punishment should be tough and justice should be immediate, which is why we are piloting this new initiative."
He added: "Whether it is cleaning streets of graffiti, renovating elderly care homes, restoring fallen gravestones or - as we saw during the recent severe weather conditions - helping to clear pavements of snow, these offenders should be repaying their dues to communities they have harmed."
Scottish government figures showed that 33,707 hours of snow-clearing were undertaken by low-level offenders this winter. On average there were 1,314 offenders on community service out each week.
Community reparation
Glasgow City Council said it could see the benefits of using community reparation as a sentence "in appropriate circumstances", both for the communities affected by crime and also the offenders themselves.
A spokesman said: "We are very pleased to be involved in the fast-track pilot as it will allow us to test the viability of such a scheme and see for ourselves the impact it will have on offenders and the wider community."
The pilot scheme is being introduced as new rules come into force next week to establish a "presumption" against prison sentences of three months or less.