Report reveals growing council pensions black hole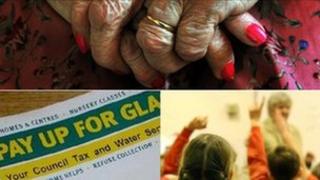 The spending watchdog for Scotland's councils has warned of a growing black hole in pension commitments.
A report from the Accounts Commission said in the most recent financial year the scale of the problem more than doubled to £9bn.
The report was commissioned to look at the choices councils faced in allocating funding.
All of the 32 local authorities have accepted a funding deal in which cuts in spending would be limited to 2.6%.
Failure to agree to the Scottish government's package - which includes extending the council tax freeze for another year - would have resulted in a 6.4% reduction.
The commission said councils had carried out "substantial work" to address the challenges of delivering services with less money.
But it said the authorities faced increasingly tough choices in allocating funds and prioritising services.
The audited accounts for 2009-10 showed a "relatively stable financial position" with overall reserves at a similar level to last year, despite pressures from the severe winter.
Future liabilities
However, the report said the pensions deficit had grown from £3.8bn in April 2009, to £9bn by April last year.
And it added: "The market value of pension scheme assets increased by £4.5bn but more significantly there was also a 53% rise in the estimated cost of future liabilities."
Accounting for pensions requires a calculation of the assets held, set against the amount that would have to be paid out if employees were due their pensions now.
The report added that this was a "snapshot of the position, reflecting the valuation techniques applied which can result in downward and upward movements in the net position".
Accounts Commission chairman, John Baillie, said: "We urge councils to build on the improvements they have made in recent years to meet the very significant challenges they face.
"Engaging with citizens and strong leadership and governance are crucial."