Byte-sized revolution heralds Twitter in Scottish court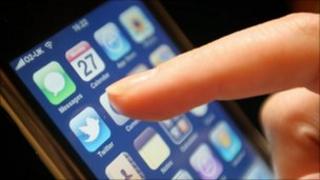 Scotland's courtrooms have changed little in decades, if not centuries.
Lawyers still wear wigs, judges still stride on to the bench in scarlet robes, sheaves of papers are still piled high in the well of the court.
Take away the loudspeakers and television screens and even an 18th Century advocate such as Sir Walter Scott would not feel out of place.
But on Wednesday, inside the High Court in Glasgow the quiet hum of technology heralded a byte-sized revolution.
Courtroom number four bristled with mobile phones, tablet devices and the odd laptop.
Such devices are usually banned in court, but for the first time in history the cautious and conservative Scottish judiciary allowed members of the media to tweet and text during a hearing.
On the press benches, the clicking of keys and the caressing of screens was met with a mixture of enthusiasm and bemusement.
'Democratise' news
The Guardian's Scotland correspondent Severin Carrell was among the enthusiasts.
"I thought it went extremely well," he said, arguing that embracing social media was helping to "democratise" news.
"You're building up public engagement," he argued, creating "a different culture of journalism" which involves the audience in the story.
Sure enough, the colourful nature of the Sheridan case - with its evidence of group sex, lies and videotape - prompted comment in abundance.
The day's most re-tweeted line came not from a journalist but an irreverent observer, @robinbogg, who wrote: "BREAKING: Tommy #sheridan arrives in Court and throws his car keys into the judge's ashtray"
There was more serious reporting as well of course, assessing Sheridan's plea in mitigation, quoting the comments of the judge, Lord Bracadale, and describing the reaction to the three-year sentence.
But the skilled shorthand writers who make their living in the courts are a little unsettled.
Theirs is a strange world - of gruesome corpses and arcane procedure - and they take great pride in the accuracy and context of their reporting.
Capturing complexity
Grant McCabe, a partner in Glasgow Courts Press Agency, reckons tweeting is best suited to the straightforward exchanges of a sentencing hearing.
He worries that it would struggle to capture the complexity of an entire trial or a complicated cross-examination.
"It would be a bit skewed," he said. "You would have to go a bit more in depth than you can in a tweet.
"You need to explain things a bit more than in 30 or 40 words."
Mr Carrell agrees that tweeting a rapid-fire exchange between witness and lawyer would present problems.
"I think it would be far harder," he said.
In any case, that seems unlikely to happen soon.
Although the judiciary proclaimed Wednesday's experiment a success and the BBC understands that it is likely to be repeated, the circumstances will be limited to sentencing, bail hearings and, perhaps, the summing up of a case.
Even in the electronic age, Scotland's courtrooms will remain resolutely traditional.