Sharp rise reported in Scots fish lice chemical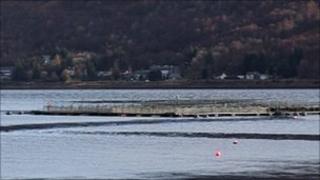 The level of chemicals used by fish farmers to treat sea lice infestations has risen dramatically, a BBC Scotland investigation has learned.
Scottish government figures showed that over the past five years, the industry used a broader range of chemicals and more of them.
Campaigners claim the figures are evidence the natural parasite is becoming resistant to the treatments.
Fish lice have been blamed for damaging salmon and sea trout stocks.
According to the government's figures, the use of chemicals used to fight the parasite increased significantly between 2005 and 2009.
Andrew Wallace, from the Association of Salmon Boards, said that when young fish migrate from rivers to the sea they can be susceptible to naturally occurring sea lice.
He added: "Now in normal circumstances there aren't that many lice around, and the lice that are around originate from existing wild fish populations.
"But if you have a million farmed fish in a cage on the migratory route of those fish, then suddenly you're encountering an entirely different scale of problem.
"And the numbers of lice coming off of these farms is horrendous at times."
Mr Wallace said a lack of co-operation from those within the farming sector was prompting the prospect of legal action to force fish farms to be moved away from sensitive rivers used by salmon and sea trout.
However, Dr John Webster of the Scottish Salmon Producers Association, said any legal action would be disappointing.
He said: "I think it's slightly ironic that an organisation that's accused the industry of threatening and bullying tactics should resort to taking a company to court.
"I think it's very disappointing that our critics should at this stage in proceedings... decide to withdraw from that debate to suggest that there's no point in working together any more and should use more draconian and threatening tactics to try and persuade us to do things."
'Louse medicines'
Environmentalists have maintained that the chemicals used to control the lice are pesticides with the potential to hurt other marine life.
But the industry has responded by saying the chemicals are regulated as a veterinary medicine.
Environmental lawyer Guy Linley Adams has been hired by wild fish groups concerned at the impact of sea lice infestations.
He said there were examples of fish farms that were unable to control lice levels, meaning stocks had to be culled early.
He added: "Now that's happening on a handful of farms, no more than a handful. But if that spreads and we have a large number of farms just unable to treat their sea lice, we have an industry in crisis."
In a statement, the Scottish government said it was not possible to determine exactly what had caused a rise in the use of chemicals.
However, a spokesman said the increased rotation of chemicals to avoid resistance and increased focus on dealing with sea lice were possible explanations.
He added: "The reasons for increased use of sea lice medicines are quite complex and almost certainly due to a number of factors.
"In order to be certain of the reasons, much more information would be required on where, when and how use has been made of sea louse medicines but in general, increasing use is not in itself necessarily a matter for concern."
You can hear more about that story in Salmon: A Dirty War on BBC Radio Scotland on Sunday 30 January at 1030 GMT.