MPs debate Scotland Bill on more powers for Holyrood.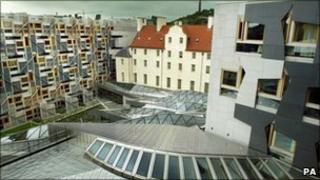 MPs have begun debating at Westminster a bill giving new powers to Scotland.
Scottish Secretary Michael Moore said the Scotland Bill, giving Holyrood increased responsibility for borrowing, would bring a new phase in devolution.
Mr Moore said the legislation contained the right balance of powers and would give Holyrood greater accountability.
Labour supports the bill, but the SNP say it is "inadequate and unacceptable" and have called for full fiscal autonomy for Scotland.
UK ministers say the proposals represent the biggest transfer of fiscal power to Scotland since the creation of the United Kingdom.
They have said the changes will give MSPs more clout and will make them more responsible for the money they spend.
The most eye-catching proposals in the Scotland Bill are plans to give Holyrood limited controls on setting income tax in Scotland, and greater borrowing powers.
It would create a Scottish income tax by cutting 10p off the basic higher 50p rate for Scottish taxpayers, adjusting the block grant in proportion, and allowing Holyrood to apply the tax at a level of its choosing.
Mr Moore said that while Holyrood could currently determine how and where money is spent, it could not be held to account for raising the money it spends.
"The Scotland Bill addresses that imbalance by providing a package of taxation and borrowing powers that will see the Scottish Parliament become accountable for over a third of the money it spends," he said.
But SNP MP Pete Wishart said the "perplexing" bill meant some powers being handed to Holyrood, while others would be withheld at Westminster.
"There is so much we could have included in this bill, he said, adding: "There is so much we could have done to improve the position of Scotland, to have measures that would help our economic performance and increase economic growth."
The bill will also see the Scottish Parliament given jurisdiction over drink driving and speed limits, along with control of airguns.
Most of the plans stem from the findings of the Calman Commission review of devolution, which was set up to look at how devolution was working.
The Scotland Bill, currently having its second reading at Westminster, still faces several stages of parliamentary scrutiny before becoming law.