Appeal for Scottish garden bird count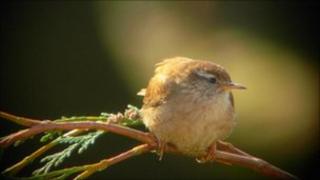 Scots are being urged to take part in a nationwide survey of bird numbers being carried out by RSPB Scotland.
The charity said the findings should help reveal the impact the big freeze has had.
It is feared the severe winter weather has taken its toll on many of the most popular species of birds.
RSPB Scotland wants the public to join this weekend's "Big Garden Birdwatch" by recording the numbers and types of birds they see in their gardens.
The charity then wants those taking part to log the details online.
That will allow the organisation to build up a nationwide picture of bird numbers.
Small birds are particularly at risk during cold weather and the RSPB is anxiously awaiting the results to discover how vulnerable species, including coal tits, long tailed tits and wrens, fared amid December's severe weather.
For almost all of December, Scotland faced sub-zero temperatures. The bitter conditions raised fears that many well-known species of birds were at risk of starvation as natural food sources succumbed to the snow and ice.
During the harsh conditions many garden birds have been forced to rely on food and water provided by humans, but there is little clue as to how many survived the cold spell.
Coldest December
Dr Paul Walton, RSPB Scotland's head of habitats and species, said: "We cannot be certain of the prolonged cold spell's impacts on Scotland's birdlife.
"We do know December was one of the coldest on record and that many species exhibited stressed behaviour, struggling to find food during the freezing temperatures.
"It's likely small-bodied birds will have been hard hit.
"These birds all have high metabolic rates and therefore need to feed constantly to ensure they have enough energy to survive the bitter nights.
"Fortunately, these populations can bounce back during the breeding season if habitat and feeding conditions are good."
Now in its 32nd year, the Big Garden Birdwatch provides RSPB Scotland with a "snapshot" picture of garden bird numbers in each region of the country and can help highlight any worrying declines.
Last year saw 37,000 Scots count the birds feeding in their gardens.