Average Scottish jail sentences 'longest in a decade'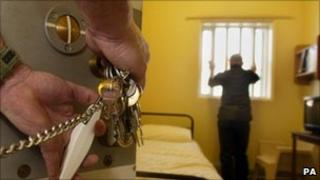 Average prison sentences in Scotland are now at their longest in a decade, according to official statistics.
Just over 120,000 people were convicted in 2009-10 - a fall of 4% on the previous year.
But the average length of jail terms rose by 7% in a year, while the number of fines and community sentences fell.
Justice Secretary Kenny MacAskill said sheriffs and judges had his full support in handing out longer sentences.
"The courts are sending out a clear message that if you commit serious crimes, you will be punished and you will face a lengthy prison sentence," he said.
The criminal proceedings figures were published by Scotland's chief statistician, and showed the average jail sentence in 2009-10 was more than nine months (281 days).
This is a increase of nearly two months on the average terms handed down in 2000-01 (248 days).
Life sentences for murder are not included in the average sentence calculation.
At the same time as sentences have increased, the number of fines issued by the courts fell by 2% to 72,400.
Community sentences also dropped by 9% in a year, to 16,300.
However, the number of anti-social behaviour fixed penalty notices handed out by Scottish police officers rose by just over a quarter.
About 61,000 people received fixed penalty fines for offences like drinking alcohol in a public place (43% of the total), breach of the peace (32%) and urinating in public (21%).
The figures also showed the custodial sentences for handling an offensive weapon increased for the fifth consecutive year.
Average jail terms for these offenders was 274 days (nine months) in 2009-10, compared to 118 days in 2005-06.
The Scottish government has supported an increase in the use of community sentences, and new legislation due to be enforced next week will urge judges to replace short sentences of under three months with community service.
Predicted a rise
A government spokesman predicted a rise in community sentences in the next few years, with the introduction of the Community Payback Order on 1 February.
Under this scheme, criminals will be ordered to tackle the causes of their offending behaviour by getting treatment for drug or alcohol addictions while serving a community sentence.
The Scottish government maintains that judges will still have three-month sentences at their disposal if they believe the punishment fits the crime, but Labour said the new regime amounted to a "get out of jail free card" for some serious offenders.
Liberal Democrat justice spokesman Robert Brown reaffirmed his party's belief that "very short prison sentences just don't work".