Finance Secretary John Swinney releases budget figures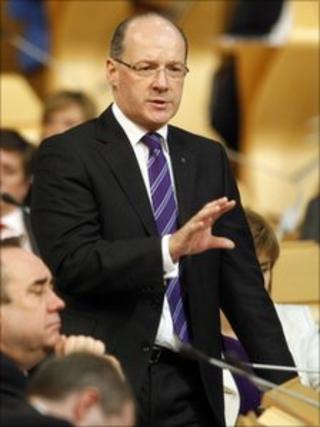 The Scottish government has published new budget figures for the next few years, following opposition pressure.
Finance Secretary John Swinney originally unveiled his spending plans for one year, but has now released illustrative figures for up to 2015.
The "flat cash" figures show every department with essentially the same level of spending up until 2015.
Labour said the figures were disingenuous and an "insult to parliament".
MSPs are voting on the government's 2011-12 budget - the SNP's last before May's Scottish elections - for the first time this week.
Mr Swinney previously brought forward one-year plans, saying a full, three-year budget might have to be altered at a later date because of the uncertain future over public spending levels.
But opposition MSPs accused the finance secretary of putting party political interest before that of the country.
The additional budget information - which has been supplied to the Scottish Parliament's finance committee and shows small rises in health and falls in administration spending - covers 2012-13 and 2014-15.
Mr Swinney said the illustrative figures - published amid a £1bn Treasury funding cut for this year's Scottish budget - were intended to allow the public sector to look at options for the future.
They were published, he said, on the assumption that most government departments and local government would receive flat cash settlements at the same level as proposed in the draft budget for 2011-12.
The finance secretary added that a review of public services was currently underway, adding: "These illustrative figures must be viewed with that firmly in mind.
"They do not represent the results of final decisions taken by the Scottish government but they should provide a framework within which public sector organisations, and stakeholder groups across Scotland, can discuss options and consider the range of possibilities within which they can plan for the future."
According to the figures, capital and resource spending would grow from about £28bn in 2011-12 to £28.1bn the year after, then rising to £28.2bn and to £28.5bn in subsequent years.
The only changes in resource budgets would be an increase in health, from about £11bn to £11.8bn, while administration would be cut from £228.5m to £208.6m.
Labour finance spokesman Andy Kerr said: "To suggest every single departmental budget, with the exception of health, will remain unchanged for the next four years is an election trick that shows he is not serious," said Mr Kerr.
"The SNP have insulted parliament by publishing deliberately disingenuous budget figures."
The Lib Dems Jeremy Purvis, said of the SNP: "It is bizarre beyond belief that the Scottish government seems to have no interest in Scotland beyond this year.
"Not a single person in the government has exercised a single critical faculty or moved a decimal point on any budget."
Derek Brownlee, the Tory finance spokesman, said the SNP had a duty to act in a national, rather than partisan, interest.
"We have said this budget and future budgets should do more to grow the private sector, create jobs and reform public services," he said, adding: "There is little evidence today the SNP government is rising to that challenge."