Domestic abuse level 'is Scotland's badge of shame'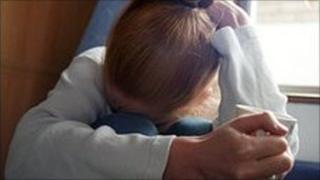 Domestic abuse levels reported over the festive period are a "badge of shame" for Scotland, according to police.
The rate of incidents recorded by police forces across the country in December has been released by the Violence Reduction Unit (VRU).
A total of 4,783 incidents of abuse, about 154 each day, were reported.
The figures were recorded as part of a VRU anti-violence campaign, which runs in December and January. A final set of figures will be issued in February.
Ch Insp Graham Goulden, who heads the unit's campaign, said: "We know that Christmas is a peak period for domestic abuse, but these figures are a disgrace, and a badge of shame for Scotland.
"The tragic thing is we are only half way through the campaign."
The campaign was promoted through December using an online advent calendar, posters and Bluetooth messages.
Police also monitored victims and offenders and held awareness raising days.
Ch Insp Goulden added: "We wanted to highlight the fact that for many victims, domestic abuse isn't a one-off event, it happens day in, day out.
"It would be fantastic if, as a nation, we could make a new year's resolution to end domestic abuse. We cannot and should not tolerate this sort of behaviour in 21st Century Scotland. It is totally unacceptable."