Aberdeen 'best-placed city for growth' in Britain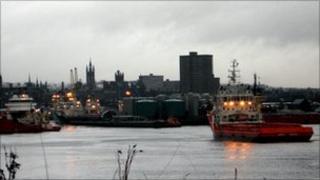 Aberdeen is the British city best-placed to grow out of the economic downturn, according to a think tank report.
But Glasgow is among the most vulnerable, the Centre for Cities study claimed.
Its assessment looked at a range of factors including where declining government spending would hit hardest.
The report also studied levels of employment, skills and private sector job creation in each city.
Centre for Cities is a research and policy institute which seeks to improve the economic performance of UK cities.
Its Cities Outlook 2011 index found that Aberdeen had the best growth prospects, followed by Bristol and Leeds.
Glasgow rated above worst performers Sunderland and Merseyside because of its relatively strong skills base and the fact that its long term inequalities were diminishing.
However, the report said the city's well known problems with welfare dependency left it vulnerable.
The think tank said the weaker cities would require government support and a realistic plan of action, while the most promising cities should have more financial and political powers.
The index placed Aberdeen second out of 63 cities for its employment.
Aberdeen was also seen to have a high number of well-qualified residents and a good private business base.
'No surprise'
Paul Swinney, of Centre for Cities, told BBC Scotland that Aberdeen was one of the least hard-hit cities in terms of recession.
He said it would be "insulated" from the worst of public sector cuts, compared to other cities.
Bob Collier, chief executive of Aberdeen and Grampian Chamber of Commerce, said "We have long known that Aberdeen is one to watch.
"Our message is that providing the necessary support, which will help cities such as Aberdeen make an even bigger contribution to the country's economic recovery, will bring huge benefits to the whole country.
"We have a well-educated population here, we have a high employment rate, we are performing better than any other city in Scotland and if that pattern is to continue and improve we must have an infrastructure to support that."
And Aberdeen City and Shire Economic Future (Acsef) chairman Tom Smith said: "These findings come as no surprise. The resilience of our local economy, largely due to our robust energy industry, is well recognised.
"It is, however, very welcome to receive national acknowledgement of our strong position.
"This study, coupled with recent announcements about positive North Sea forecasts, increase confidence in the region which will, in turn, translate into tangible investments across all sectors."