John Swinney appeals for budget unity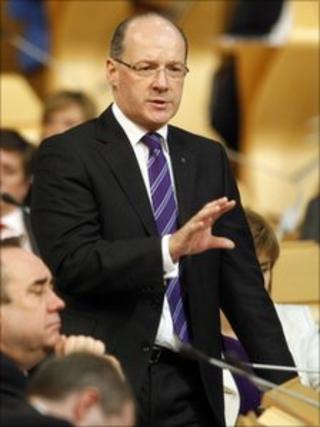 The public "rightly expect" rival politicians to work together to deliver a budget for Scotland, Finance Secretary John Swinney has said.
His words came after a series of meetings with the Lib Dems, who warned the budget did not go far enough to tackle Scotland's economic needs.
Mr Swinney said opposition parties faced a "public backlash" if they voted down the SNP's spending plans.
The first vote on the draft budget is due to take place on Wednesday.
This year's budget has attracted opposition fire, with plans for an increased business rate levy for the largest retailers coming in for criticism.
But speaking ahead of the Holyrood vote, Mr Swinney called on political opponents to "engage positively" with the Scottish government's agenda.
The minority SNP administration needs opposition support to get the budget bill through parliament.
Mr Swinney said the government had "brought forward measures to protect jobs, economic recovery and vital frontline services".
He said: "Scotland is the only nation in the UK experiencing an improving jobs market - but unemployment remains too high, and there is still much to be done.
"It is now up to others to engage positively on that agenda - that is what people across Scotland rightly expect," he said.
'Top earners'
Mr Swinney warned that opposition politicians who had voted down his party's budget two years ago had faced a "substantial" public backlash in the polls.
He said Wednesday's debate would be the "first opportunity for the parliament to show that it is willing to come together and work for the positive outcome we should all want".
Liberal Democrat finance spokesman Jeremy Purvis said his party wanted the budget to "create jobs, to make sure every child gets a fair start in life, to help business grow and work against climate change".
Last week Holyrood's finance committee asked ministers to respond to claims that the government's priority in its spending plans was the protection of public services, not economic growth.
Mr Purvis said: "The Finance Committee is clear that the draft budget as it stands does not do enough for the economy."
He also urged ministers to do more to tackle high pay in the public sector.
"Last year we challenged the government to cut the pay bill for the top earners in the public sector," he said.
"Our research shows that the pay bill for those earning over £100,000 in the public sector has shot up from £281m to £334m in the past 12 months."
He added: "That's a £53m failure from the SNP government who say that top pay is under control.
"In my meetings with John Swinney I've made it clear that I expect this government to get a grip on top pay."
'Penalising companies'
Labour has accused the SNP's budget plans of not going far enough to protect young people's jobs.
The party's finance spokesman, Andy Kerr said: "The Scottish government's biggest priority should be to support jobs and economic growth, but this budget does neither.
"By failing to take action to provide young people with work and opportunities they are risking the life chances of a whole generation.
"The SNP can hardly say that they are supporting economic growth while at the same time cutting training budgets, slashing investment and penalising companies who create and support thousands of jobs across Scotland."
However, the Conservatives said it was vital that the parties worked together to ensure economic recovery for Scotland.
The party's leader at Holyrood, Annabel Goldie, said: "This year, like every previous year, we will work to make the budget better and deliver policies that are good for Scotland.
"All parties should ignore the fact that there is an election coming and just focus on delivering a budget that ensures the best outcome for Scotland."