Criminals' cash to fund basketball in Scotland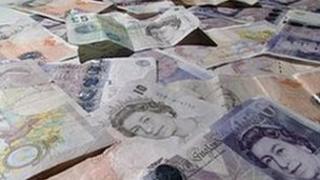 Basketball projects are to get millions of pounds seized from criminals, the justice secretary has announced.
Kenny MacAskill revealed the latest CashBack for Communities grants, with £2.65m for basketball schemes.
Since 2007, community projects have had a total of £26m, seized from criminals under proceeds of crime legislation.
Scottish Sports Futures is to receive £1.95m over three years to help fund the Jump2it scheme, which mixes sport with healthy lifestyle advice.
Mr MacAskill said: "More and more youngsters across Scotland are benefiting from our CashBack programme, which uses money confiscated from crooks to fund a whole host of diversionary activities that simply would not have existed without it.
"Since we launched CashBack in 2007, almost £26m seized under proceeds of crime legislation has been reinvested in projects to help Scotland's communities.
"This latest award for Scottish Sports Futures and Basketball Scotland is made in recognition of the excellent work they both do in educating youngsters about a healthy lifestyle and running basketball sessions that help them lead a more active life."
'Extend scope'
Scottish Sports Futures will use some of their funding for its Twilight Basketball programme, which offers free sessions to youngsters in deprived areas.
Ian Reid, chief executive of Scottish Sports Futures, said: "The continuation of funding will enable us to extend the scope and reach of our successful education through sport programmes.
"Over the last three years we have worked with almost 40,000 youngsters across six local authorities and in the next three years we plan to work with at-risk youths in all 32 Scottish councils."
In addition, Basketball Scotland will receive £700,000 over three years to support the work it does developing the sport and promoting an active lifestyle for young people.
Last month, Glasgow-based engineering firm Weir Group, one of Scotland's largest companies, had £13.9m of illegal profits confiscated for breaching UN sanctions on Iraq by doing business with Saddam Hussein's regime.
At the time, Mr MacAskill said a substantial amount of it would be used for the Scottish government's international development work.
Another £6.6m was seized from a Russian gangster in 2010.