New 'ice eliminator' to tackle Scotland's frozen roads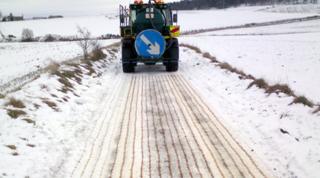 Stocks of a liquid that can tackle hard-packed snow and ice on roads at temperatures as low as -20C are to be used in Scotland.
The solution is being distributed after traditional salt and grit failed to keep key routes clear during the recent extreme weather.
Transport Minister Keith Brown said the liquid had been tested in Aberdeenshire and had shown "favourable results".
The project forms part of a new government winter transport plan.
The de-icer, which costs up to 12 times that of salt, will be used at strategic motorway locations only when temperatures fall below a certain level, a government spokeswoman said.
Its use will also be monitored to test if there is any environmental impact.
The new liquid, which is a variant of magnesium chloride, will be mixed with salt to boost its efficiency in temperatures below -7C.
Mobile sensors
In December Scotland experienced temperatures as low as -25C.
Conventional mixtures of salt and grit are ineffective at treating iced roads when temperatures plunge below -10C.
Mr Brown said the measure was part of the "innovative ways" the government was exploring to tackle future bouts of freezing weather.
He said: "This is one of the first times this treatment has been used on the Scottish road network and it is encouraging to see this initial trial deliver positive early results."
He added: "Last December we faced an unprecedented situation with the coldest weather for 100 years and it's right we continue to explore ways of continually improving our capacity to respond to severe weather."
In addition to trialling the new solution, the government said it was also in the process of deploying mobile sensors to detect on-the-ground road conditions as well as developing an improved communication system to inform drivers of transport issues.
It comes after former Transport Minister Stewart Stevenson was forced to resign in the wake of widespread travel chaos, brought on by freezing conditions.
Snow and ice in mid-December brought much of central Scotland's road network to a standstill, causing the closure of the M8, M9 and A80, as well as gridlock on many other routes across the country.