New weather team for BBC Scotland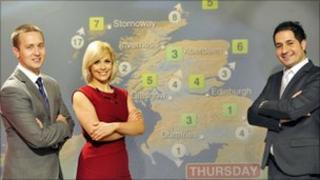 The wind of change is in the air as three new weather presenters prepare to breeze in to BBC Scotland.
The existing forecasting team of Gail McGrane, Judith Ralston and Gillian Smart are all set to take maternity leave within weeks of one another.
The new team - Christopher Blanchett, Cat Cubie and Stavros Danaos - will stand in temporarily from next month.
They will become the new faces and voices of BBC Scotland's TV, radio and online weather reports.
Christopher, 28, is an assistant producer who currently produces national forecasts on BBC1 and the News Channel as well as training presenters at the BBC Weather Centre in London.
Cat, 29, is an experienced presenter on a wide range of factual programmes, while Stavros, 33, is a broadcaster with the Met Office.
Head of BBC Scotland News, Atholl Duncan, said: "We are sure the new weather team will do a great job babysitting the bulletins while Gail, Judith and Gillian are away.
"The new team got the jobs amid extremely fierce competition. Now they can't wait to get on air broadcasting to our audiences on radio, TV and online across Scotland."
Between them, the trio will be responsible for thousands of weather bulletins provided by BBC Scotland throughout the year.
Gail McGrane said: "We couldn't quite believe it when all three of the forecasting team became pregnant within weeks of one another - but at least we've all been able to share our personal experiences every kick of the way."
Cat Cubie said her move back north had brought back some family recollections.
''One of my earliest memories is falling asleep as my Dad listened to the shipping forecast," she said.
"I never, for one moment, dreamed that when I grew up I would be involved in presenting the weather myself."
'Four seasons'
London-based Christopher said he was also looking forward to joining the BBC Scotland team.
"Scotland gets some of the most interesting and challenging conditions in the UK and it will be a great opportunity to be able to help deliver that all-important forecast," he said.
Stavros said he was looking forward to getting to grips with the fact Scotland frequently gets "four seasons in one day".
He added: "I've always had a real interest in the weather from an early age so this is the perfect job for me.
"The fact I enjoy walking and hiking also means I'll get to take my day job with me when I'm not working."