Gail Sheridan makes 'anti-Catholic' police complaint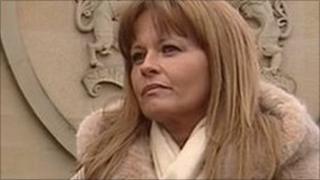 Gail Sheridan has lodged a complaint about alleged anti-Catholic treatment by police during her husband's perjury investigation, her lawyer has said.
Aamer Anwar has written to Lothian and Borders Police about officers taking away Mrs Sheridan's rosary beads during a police interview.
Mr Anwar said he had also written to the Lord Advocate over claims his client was mistreated by police.
Mrs Sheridan was cleared of perjury at the High Court in Glasgow last month.
Her husband, former Scottish Socialist Party leader Tommy Sheridan, was found guilty of lying to the courts during his successful defamation action against the News of the World in 2006.
He will be sentenced later this month.
Mr Anwar said that letters to the chief constable of Lothian and Borders Police and Elish Angiolini advised that he had been instructed to "consider legal proceedings".
The complaints also include the appearance of taped police interviews featuring Mrs Sheridan and her husband in a BBC documentary on the case.
Mr Anwar told the Daily Record newspaper: "The formal complaint regarding Gail's treatment by police may well lead to a civil action.
"She was left traumatised and is upset."