Roman epic Eagle in Glasgow film festival line-up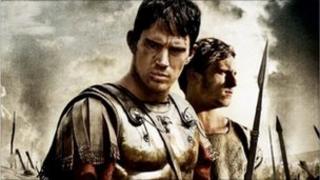 More than 250 films and special events across 15 venues are included in the line-up for the Glasgow Film Festival.
The festival opens on 17 February with the UK premiere of Potiche, starring Catherine Deneuve and Gerard Depardieu.
The closing gala on 27 February is the UK premiere of Roman epic The Eagle, from Glasgow director Kevin Macdonald.
Other highlights include the world premiere of David Mackenzie's romantic comedy You Instead, which was filmed "in real time" at T in the Park 2010.
The central story of the film is a rock 'n' roll love tale of the lead singers of two feuding bands who find themselves handcuffed together for the entire festival.
Oscar-winning Hollywood actress Meryl Streep is the subject of the festival's retrospective, with nine of her films being shown, including Kramer vs Kramer, Sophie's Choice, The French Lieutenant's Woman and Out of Africa.
Pure delight
Glaswegian graphic novel king Mark Millar, writer of hit movie Kick-Ass, has curated a strand of the festival programme called Superheroes In Glasgow.
It will show filmic adaptations of new stories and old classics, including a rare screening of Richard Donner's cut of Superman ll (1980), with previously unseen footage of Marlon Brando.
Other UK premieres at the festival include Island, an adaptation of the Jane Rogers' novel, set in the Hebrides, and Hobo with a Shotgun starring Rutger Hauer.
There is also the romantic comedy First Night, with Richard E Grant and Sarah Brightman, and superhero saga Griff the Invisible, starring True Blood's Ryan Kwanten.
The festival opens with the UK gala premiere of Francois Ozon's comedy Potiche, which is set in small-town France in the 1970s.
It is described by the organisers as a "pure delight, combining hilarious farce with withering social commentary".
The closing gala film, The Eagle, is inspired by the Rosemary Sutcliff novel The Eagle of the Ninth in which a young Roman centurion ventures beyond Hadrian's Wall to discover the fate of the lost Ninth Legion and restore honour to his family name.
Directed by Kevin Macdonald, whose previous films include Last King of Scotland and Touching the Void, it stars Channing Tatum, Jamie Bell, Donald Sutherland, Mark Strong, Tahar Ramin and Douglas Henshall.
Glasgow Film Festival tickets are on sale from Thursday 20 January.