Burns supper scales new heights on Mount Kilimanjaro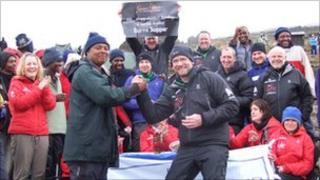 A group of Scottish climbers have staged the world's first Burns supper on top of Mount Kilimanjaro.
About 20 people from the service and hospitality industry took part in the event to raise funds for the charity Hospitality Industry Trust (HIT).
Michelin star chef Andrew Fairlie, from Perth, prepared a special haggis for fellow climbers at the summit.
Climbers included representatives from Gleneagles, Hilton Hotels, Prestonfield House and Cameron House.
Award-winning Scottish butcher and entrepreneur Simon Howie, who co-sponsored the expedition, congratulated the team on scaling Africa's highest peak.
He said: "I'm delighted to learn that they have succeeded in achieving their objective to hold the world's highest group Burns supper at the summit of Kilimanjaro to raise funds for a very worthwhile cause."
Organisers hope to raise a total of £150,000 from the event.
Last year, HIT Scotland unveiled a £100,000 initiative to improve standards and aspirations for the country's hospitality and tourism industry.
An "emerging talent" scheme will fund about 100 scholarships in hospitality, tourism, travel, leisure or catering during 2011.
Organisers said the initiative could return more than £1m a year to Scotland's £4.1bn tourism and hospitality sector through new skills, promoting best practice and improving staff retention.