Report warns economic climate may boost drug use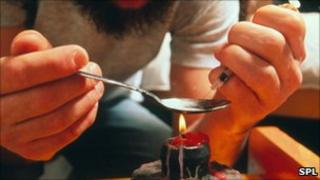 The current economic climate could lead to an increase in drug-taking in Scotland, a report has warned.
The Scottish Drugs Forum said fewer job opportunities and reduced welfare benefits could help create the conditions for more vulnerable people to turn to drugs.
Its annual report also warned public sector spending cuts could mean less money to fund treatment for users.
The Scottish government said drugs services funding was at record levels.
The Scottish Drugs Forum (SDF) is a voluntary sector drugs policy and information agency.
Its director, David Liddell, said Scotland must learn lessons from the 1980s, when massive youth unemployment created the drugs problem of today.
He also expressed concern about the effect of cuts to local authority funding, arguing it could hit the Scottish government's strategy of promoting recovery from addiction.
Mr Liddell said about 55,000 people in Scotland were classed as problem drug users.
He said poverty and deprivation were strongly related to drug addiction.
"The recession means there are fewer job opportunities all round so many people - particularly young people in deprived communities - may not get their chance to work themselves out of poverty and may turn to drugs to alleviate their boredom and despair," Mr Liddell said.
"This is especially so if education and training budgets are cut by hard-pressed public sector agencies and welfare benefits are squeezed to an absolute minimum."
Mr Liddell added: "There is also the danger that people who have been getting on top of their drug problems may be tempted to revert to using because the vital support services for helping families in crisis, who have housing difficulties or who need pre-employability skills are cut because of a contraction of budgets.
"The current and future situation not only threaten the prospects of recovery for people struggling to overcome problematic drug use - they also present the real and very depressing possibility of attracting more recruits into harmful drug use."
The Scottish government said record funding for drugs services would be maintained if the Scottish parliament approved its budget.