Scotland Bill committee academic complaint dismissed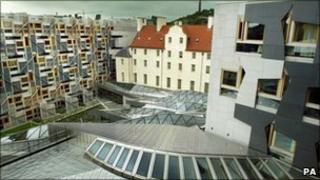 The Scottish Parliament's presiding officer has dismissed a complaint from two academics who said they were badly treated by MSPs.
Prof Drew Scott, of Edinburgh University, said he was the victim of members on the Scotland Bill Committee, who were political point scoring.
He appeared with Prof Andrew Hughes Hallet, of St Andrews University.
Holyrood presiding officer Alex Fergusson said the issue was a matter for the committee convener.
And, responding to a complaint from Prof Scott, Mr Fergusson added that Holyrood's committees had a "strong tradition" of engaging constructively with academics.
The row blew up after the academics appeared last Tuesday before the committee, which is scrutinising the Scotland Bill, a piece of Westminster legislation proposing increased tax and other powers for Holyrood.
They took issue with being questioned on a paper they wrote in 2009 linking fiscal autonomy with economic growth, which they said was placed on the committee's website without their knowledge and was not relevant to the Scotland Bill.
Committee convener, Labour MSP Wendy Alexander, and Tory MSP David McLetchie, had questioned the validity of the paper.
Prof Scott said his reputation had been called into question, but, in the letter of reply, Mr Fergusson said the "conduct of committee meetings is the responsibility of conveners alone".
The letter went on: "I would wish to acknowledge the strong tradition of our committees in engaging constructively with the academic community.
"That engagement has enabled many academic experts to make a valuable contribution to the scrutiny of legislation and government policies.
"The scrutiny process quite properly involves the testing of all available evidence in order to achieve robust conclusions."
Mr Fergusson also said he hoped everyone involved in scrutinising the Scotland Bill could "continue working constructively together".