Vitamin D and weaning advice for new Scottish mothers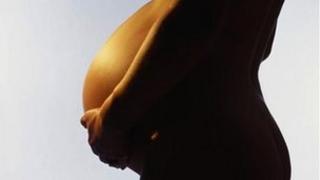 The Scottish government is to advise women who are planning a pregnancy to take vitamin D supplements, BBC Scotland can reveal.
The government will also urge new mothers not to wait too long before introducing lumpy food to their babies.
The new infant strategy aims to highlight how nutritional choices start before conception and do not end after breastfeeding.
Previous policies had concentrated on breastfeeding alone.
Health minister Shona Robison said: "What we're doing is putting breastfeeding in a wider context.
"We recognise that there's a lot more that we can be doing and that healthcare staff can be doing to advise women before conception.
"After conception there are things they can do about their own nutrition which can really benefit their newborn child."
Many women of childbearing age in Scotland are known to be deficient in key nutrients including iron, calcium, folate and vitamin D.
Health experts now recommend that women who are planning to become pregnant take a supplement of vitamin D as well as folic acid.
Commercial baby foods
The main source of vitamin D is sunshine and women living in northern latitudes such as Scotland often do not get enough to ensure healthy growth of the foetus.
Ms Robison added: "Because we live in Scotland where we don't have an awful lot of sunlight, unfortunately, the evidence is that vitamin D supplements are very, very important."
David McNiven, director of Multiple Sclerosis Society Scotland, said: "Vitamin D is an important public health issue and we have sought to raise awareness of it alongside the Shine on Scotland campaign.
"It's vital that new mothers are able to make informed decisions and the MS Society will continue to promote research into vitamin D and bring the results to the attention of policy makers."
The strategy now also warns against introducing lumpy food too late when babies are being weaned.
Research suggests that babies who are given lumpy food after 10 months are more likely to be fussy eaters and can exhibit strong likes and dislikes even at seven years old.
The policy was drawn up before evidence that babies should be given solid food before the age of six months was published in last week's British Medical Journal.
However the document recognises that many children are weaned before the age of six months and advises parents to mash up their own low-salt and low-sugar foods rather than rely on commercial baby foods.
Breastfeeding remains a key component of the strategy, called 'Improving Maternal and Infant Nutrition: A Framework for Action'.
In 2005 Scotland became one of the few countries in the world to legally protect the rights of women who want to breastfeed in public.
However, this and other measures have failed to make an impact on breastfeeding rates, which have remained low for more than a decade.
So far the Scottish government has failed to meet a target that 33% of women feed their babies breast milk alone at six weeks old.