'Upset' academics call for Scotland Bill inquiry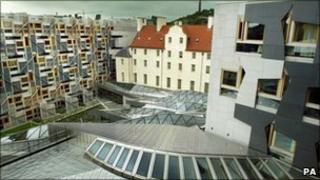 Two academics have asked for an inquiry after claiming their integrity was called into question by MSPs.
Prof Drew Scott, of Edinburgh University, said he was badly treated by MSPs on the Scotland Bill Committee who were political point scoring.
Prof Scott, along with Prof Andrew Hughes Hallet, of St Andrews University, have asked parliament bosses to investigate.
The committee is scrutinising planned new powers for Holyrood.
Prof Scott, who appeared before the committee last Tuesday, had prepared a paper on the new financial aspects of the Scotland Bill, a piece of Westminster legislation proposing increased tax and other powers for Holyrood.
But he was subjected to detailed questioning on another paper.
The two academics said the paper they wrote in 2009 linking fiscal autonomy with economic growth which was placed on the committee's website was not relevant to the Scotland Bill.
Prof Scott said he was "very upset" about the way he was treated by Labour and Conservative MSPs on the committee, who had questioned the validity of the paper.
The committee is convened by former Scottish Labour leader Wendy Alexander and its membership includes Tory David McLetchie.
In a letter to the Herald newspaper, the academics stated: "We have written to the presiding officer seeking an explanation for the extraordinary events surrounding our appearance at the Scotland Bill Committee, events which undoubtedly damaged our professional reputations.
"More importantly, we consider that these events not only undermine both the reputation of the Scottish Parliament and the willingness of others to appear before its committees to offer expert advice, they have prevented committee members from discussing with us our concerns about the adverse consequences the implementation of this bill could have for Scotland."
Responding to the claims, Labour and the Tories said they were entitled to question the witnesses on the paper, which had been quoted by First Minister Alex Salmond while he was making the case for full financial powers for Scotland.