Further 17 flu deaths confirmed in Scotland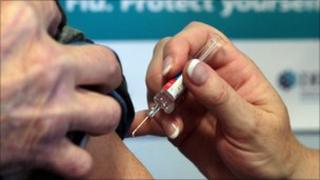 Scotland has seen a large rise in the number of people dying from the flu virus, according to the Scottish government's latest figures.
A further 17 people have been reported to have died in the last week, bringing the total number of fatalities to 27.
The number of people being treated in intensive care has increased by 55, almost doubling the total to 116.
However, Health Secretary Nicola Sturgeon said the figures were not out of line with expectations.
Health officials have said the number of people going to the doctor with flu was still reasonably low.
They are urging anyone in at-risk groups to ensure they are vaccinated against the virus.
The latest figures from show that vaccine uptake by pregnant women has continued to improve.
About 40% of pregnant women and 58% of pregnant women with other risk factors have been vaccinated, and increase of about 8% in the last week.
The rate of GP consultations for flu-like illness across Scotland remains considerably lower than last year - down from 83 people per 100,000 to 56.
Health Secretary Nicola Sturgeon said: "Our higher vaccination rates could be playing a valuable contribution in keeping the flu at bay so I am pleased to see that more people who are at risk of complications, including pregnant women, have been coming forward to take up the offer of the jag.
"Although it is a sad fact that flu claims lives every year and any death from flu is a tragedy, it is important to remember that the number of people who have so far died this season is in line with what we would expect at this time of year."
Chief medical officer Dr Harry Burns said vaccination was the most important way for those at greater risk to protect themselves from flu.
"The dominant flu strain this season is H1N1 and pregnant women are one of the groups most susceptible to severe illness if infected," he said.
"Everyone can help stop the spread of flu by catching sneezes in a tissue and washing their hands regularly."
A total of 112 people with flu have died in the UK since September, according to the UK government.